Finding the right resource to learn about Canadian history with your children can be a challenge. Modern History Through Canadian Eyes takes the study of history and puts it into your hands with resources, guidance, and flexibility to make this program work for you.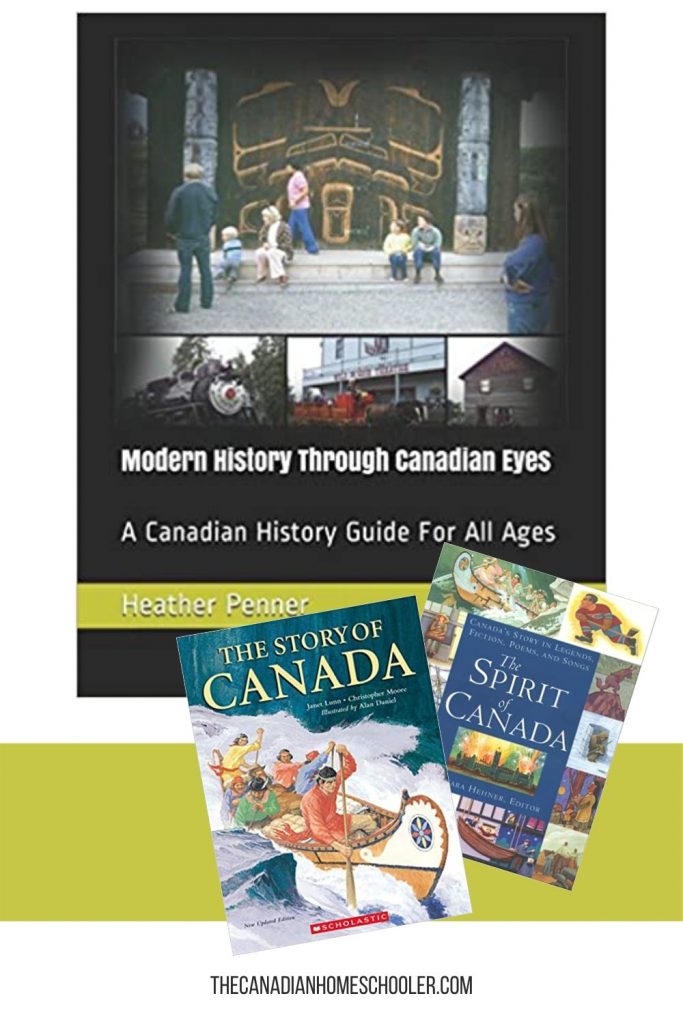 As a Canadian homeschool family, we love to learn about our country's history. Living in the "Birthplace of Confederation", we see history all around us and this past year we celebrated the 150th anniversary (sesquicentennial) of the 1864 Charlottetown Conference.
Before moving to Prince Edward Island, we lived in Ontario and we did a formal study of Canadian History. At that time, my children were 13, 11, and 6 years old. I used a wonderful and very useful guide to pull our study together called Modern History Through Canadian Eyes: A Canadian History Guide for All Ages by Heather Penner.
I highly recommend this guide. It is a wonderful tool if you are interested in learning more about Canada. You can either follow it very closely or use only some of the suggestions. At times, we stayed longer on a particular topic, getting more books from the library or doing some research online. Other times we kept the study simple by reading from the spines and moving on.
As recommended in the guide, we used The Story of Canada by Janet Lunn as our spine, along with the Spirit of Canada by Barbara Hehner. There are many useful recommendations mentioned, for a wide range of ages and reading levels. Some resources we borrowed from the library, from books to magazines, to videos and websites, others we purchased as the spines that I knew we would be using throughout the year.
The Modern History Through Canadian Eyes guide was a great help for keeping myself organized and for activities and extra reading suggestions. I followed a simple plan of reading aloud from the Story of Canada and the Spirit of Canada to all 3 kids. Depending on the unit, we added some map work, an activity, or some extra reading or research on the internet. Celeste wasn't expected to do any written work for this, as she was only six but it was a nice light introduction for her. Adrienne and Andre learned a lot about our country through this study. I did too!
The guide is divided into 10 units. The history topics span from Aboriginal Peoples to Post War Present Day Canada. Each unit is divided into several parts.
In each unit, Heather Penner gives an introduction, a list of Canadian Events of the time period covered in that particular unit, as well as a list of World Events. Core Resources are listed next, book titles with chapters listed and pages to be read. The Additional Reading section includes a list of even more to read. We often read the stories from Footprints in the Snow. Project Ideas are listed, often these include map work, recipes, field trips, or ideas for extra research projects. Some field trips were virtual ones, others we were able to visit in person.
This guide includes so much that it could be used several times, I plan on using it again with Celeste, likely next school year. The book lists, resources, and project ideas are so numerous, I believe the author meant for us to pick and choose as we see fit what we want to read and do for each unit. In the guide, she encourages the reader to throw out the calendar as we plan this study, remembering to "take time in the study, spending as much time on each unit as you need to become familiar with the people, places, and events."
Modern History Through Canadian Eyes is, in my opinion, a great tool to study Canadian History for all ages using interesting books and resources.
Wondering how to add more Canadian History to your homeschool? Here's the Teaching Canadian History Guide for Homeschoolers.
—
This post was originally published in 2015 and was written by Alexandra, a homeschooling mom in PEI. You can read more about their homeschooling days on her blog, Life on a Canadian Island, although these days life is very different as her kids have grown up and the youngest is off to school. This post was updated in 2020.