Field trips are an exciting part of homeschooling. They allow a hands-on, real life interaction with a subject – whether that just be food at the grocery store, or re-enacting life in a pioneer village. However, sometimes…. it's not possible to go out and touch, feel, and explore. Sometimes, it would be fantastic to go on a field trip without ever leaving your house.
Introducing the idea of virtual field trip – a unique chance to explore somewhere online, instead of having to visit in person. These offer a glimpse into places that you might never be able to otherwise visit (like the Louvre!)
Today, we're going to take a trip to 5 different Canadian virtual field trips that you and your children can join in from the comfort of your own home.
1. The Parliament Buildings in Ottawa, Ontario
Thanks to Google, we are able to do a "walking tour" through the Canadian Parliament Buildings in Ottawa just by clicking our mouse. The tour allows you to wander through the hallways and many rooms of the buildings, including:
the Peace Tower Observation Deck
the Memorial Centre
the House of Commons
the Prime Minister's Office
the Library of Parliament
a Meeting Room
Combining this virtual walkthrough with videos from Parliament 360 that share more information on important parts of the buildings, and the school tour resources available online – and you can enjoy a great visit to Parliament.
2. Iqaluit, Nunavut – The Canadian Arctic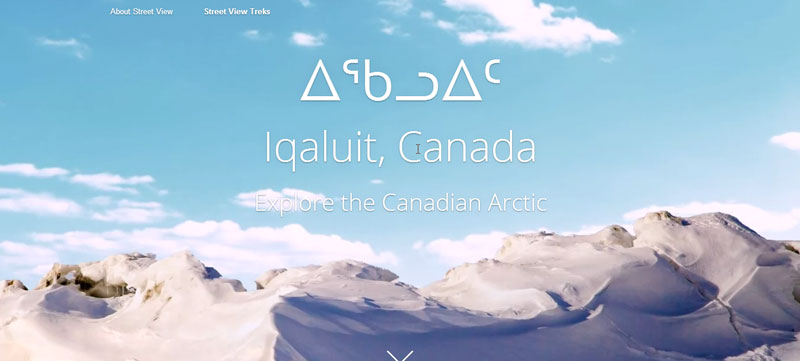 The most northern regions of Canada consist of some of the coldest and most hauntingly beautiful locations in the world. However, they are completely unable to be reached by road -it's a fly in-fly out kind of territory. One man from the North learned how to take the Google Map Treks camera out in his community to share with the world.
This website offers the opportunity explore Iqaluit in the territory of Nunavut – located up on Baffin Island. Walk around the town to see what life is like in this remote community. There is also a series of guided audio tours, sharing unique and interesting buildings and sights. Experience a dog sled ride, learn about early explorers of the region, and how they filmed the town.
There's a "view more" button at the bottom that leads to a new page that allows you to explore around, even inside some of the buildings.
A warm interesting way to visit the Canadian Arctic.
[Google Street View Treks also has several other similar and outstanding trips to places like Venice, the Great Barrier Reef, The Eiffel Tower, the Amazon, Galapagos Islands, Burj Khalifa, and more.]
3. Farm Tours
Across each of Canada's provinces are a variety of farms, and this website offers a great chance to visit some of them. The site has 15 different types of farms, including:
egg
chicken
beef
dairy
fruit & vegetable
pig
grain
sheep
There are even sub-categories for some of the farms. For example, under egg farms, you can visit a free run, free range, conventional, aviary, and enriched style of farm. Once you choose where you'd like to visit, you are taken to an aerial view of the farm, with question mark bubbles offering you a choice on where on the farm to go. Each one zooms into a different place which is an interactive panoramic photo with its own bubbles to explore. There are also videos and a dictionary to learn more about the lingo.
I love that these are Canadian farms and farmers. It's a great way to learn more about our agriculture.
 The Ontario Science Centre is in Toronto, Ontario and is a terrific, hands-on and discovery-based museum that brings all sorts of science and technology to life for its visitors. They have attempted to offer some of that same interaction through their website's virtual tour.
Arriving at their website, you are given a map – where you can choose what you would like to explore. Whether it be an exhibit or a demonstration, each area has great tools and links for you to use. Short videos of demos and the exhibits are provided, along with photos and info, links to related articles or activities or videos from around the web, and do-it-yourself experiments to try at home. 
With about 95 online exhibitions to search through and explore, the Canadian Museum of History not only offers unique opportunities to study Canadian history but also world and cultural histories. Some are interactive websites, others photographic journals. Some offer teacher resources, some are geared to older viewers, and some just share information. It's a varied and exciting collection of history.
—
If you are looking for some other great virtual field trips, check out this post that rounds up all sorts of virtual fun!