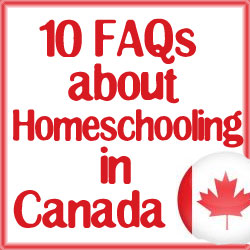 Lee and I get regular emails from new to homeschooling parents who are desperately seeking help as they start their homeschool journey. We've narrowed down the top 10 most asked questions and put them together (with the answers we usually provide) in one place – hopefully to help!
(Note: We still love to get emails, so if you need more than these answers offer, PLEASE don't hesitate to contact us!)
1. Am I allowed to homeschool in Canada? 
Absolutely! Every province of Canada supports and accepts homeschooling as a valid, legal method of education. Some provinces have more rigid guidelines and expectations for homeschoolers, where others basically leave you to your own devices. We recommend clicking on the flag of the province you want to know more about on the left of the screen here to go to more information about that provinces' requirements.
2. My child and school aren't going to work – we've decided to homeschool. What do we need to do in order to take our child out of school? 
We're sorry to hear that school isn't working out as you'd hoped. The answer to this question actually varies according to where you live in the country. Each province has rules or expectations of what steps to take when you decide to pull a child out of the system to teach them at home.
In Ontario and PEI, for example, you just have to send the board a letter that explains your intent to homeschool and you are set. In Saskatchewan, you need to notify your district at least 30 days before the school year of your plans, and maintain a portfolio of what you've completed through the year. Again, check your provincial page on this site for links to information. If you can't find exactly what you need, let us know and we will find it for you.
3. Does the government give us any money for homeschooling supplies and programs? 
Again, this is province specific. The majority of the times, the answer is a disappointing "no." However, if you live in British Columbia, the Northwest Territories, or Alberta, you will receive some funding towards your schooling. The amount is dependent on how you register with the government and how independent you want to be in your teaching.
4. Do I have to use a government supplied curriculum? If not, where do I find curriculum – everything I've seen seems to be Christian/American/expensive/overwhelming? 
In most scenarios, the answer to this question is no. There is no government supplied curriculum, or even a curriculum with a stamp of government approval. You can choose what will work best for your child and family and get started. There may be more regulations on what is expected if you choose to homeschool under a school umbrella however. Make sure to confirm exact details regarding curriculum expectations before buying anything.
If you are looking for curriculum, you will notice that the top promoted products are Christian in faith, and American in origin. Although there is nothing wrong with these sets – they aren't a good match for every family. If you would like to find Canadian content, check out the list on The Canadian Homeschooler – where I've been spending years sharing books, resources, and curriculum materials for Canadians. Since, to date, there hasn't been a full Canadian curriculum in a boxed set (unless you know about it, in which case you need to tell me PRONTO!), you can pick and choose different materials to mix and match your own curriculum materials.
5. Does my child need to be regularly tested – like standardized testing? 
No – I've honestly never heard of any homeschoolers needing to be tested with the public school standardized testing system. You CAN choose to use past tests online to see where your child is at, but testing is completely a personal choice and something that many homeschool families feel aren't an important part of their child's education or success.
6. Where can I find a local homeschool group/support group? 
One of our goals here at Homeschool Canada is to provide people with a list of available local support groups. By no means is our list exhaustive, but be sure to check the lists of support groups under your province page. There are yahoo email groups, Facebook groups, and local meetings. Other places to look for groups are at the website meetup.com and through Facebook communities, such as our Homeschool Swap: Canada group and our individual Facebook pages. When you find someone in your community who homeschools, ask them if they belong to a group!
7. Can you help me pick out curriculum for my kids? 
We love to help, if we can. Feel free to contact us with where you live, what ages/grades you are doing with your kids, and what kind of homeschool style you are hoping to use. We can offer suggestions of companies and products we know about that might be a good match for your family. Remember, we don't know everything and they might not work for your family, but we can give you a list of suggestions.
8. Do I have to follow the provincial curriculums when I homeschool? 
Unless it's required under the method you register with your local school board (such as an umbrella tree, or distance learning), you shouldn't HAVE to follow the provincial curriculum outlines during your schooling days. However, using the government approved guide is a good way to keep yourself on task and cover everything. Under each province page you will see a link to Learning Outcomes, which shares the curriculum expectations and outlines for each grade.
9. What about high school? Can we homeschool our high school student?
Absolutely. You just have to be more creative in your planning. There aren't nearly as many resources available for the higher grades – and it will take some work to find a match for your child and the options that are available. There are online programs, distance/correspondence options, just learning independently, and lots of great volunteer opportunities – you just have to find them.
10. What about post-secondary school? Am I setting my child up for failure? 
It can be overwhelming to think of how the schooling choices we make at any stage of our children's lives will affect their future educations and career choices. Are we letting them down by not following the norm? Post-secondary is one choice that our kids can do after school years – as is apprenticeship, a job break, travelling. If college or university is your education goal plans, then there are a lot of options available, including registration at an open-university and working directly with your university of choice to establish homeschool requirements. We highly recommend visiting UniversityAdmissions.ca for more information on what to do as a homeschooler heading towards post-secondary schooling.