A traditional or school-at-home approach is essentially trying to replicate the learning experience of a public school classroom at home: specific workspaces such as desks, textbooks and workbooks, assignments, and grades, often filling the day with structured study times and trying to match up to the same curriculum outlines set out by the government. There are basically two options for who teaches your child with this method: parent-led or teacher-led.
Most people when they first start homeschooling (especially when they have had their child in the school system first) tend to begin with the school-at-home approach since it is the most familiar to their own learning experience.  There are basically two options for who teaches your child with this method: parent-led or teacher-led.  Teacher-led programs are typically run as online academies.
This method of homeschooling can include:
A boxed curriculum set with text books and workbooks
Distance Education / Correspondence Courses
Distributed Learning
Online programs offered by an accredited online school or public school system
School-At-Home Benefits
It's familiar because it follows a similar format and ideas of the common experience in school.
It's easy to use. Most of the time you know what to do when each day and can open and go with your curriculum.
It's easy to buy since often you can get a whole grade of school resources in a single box.
It's safe. You are sure your child is meeting all the expectations for their grade.
It allows for easy transfer. If things change with your homeschooling adventure and you opt to put your child into school instead, you can feel pretty confident that they are at par with their peers.
School-At-Home Disadvantages
It tends to be quite expensive to purchase a boxed curriculum for each grade.
It can be very boring – textbooks and workbooks or an online classroom don't really allow for differences in learning styles or preferences.
It can require a lot of work each day from your child, which can lead to frustration and conflict.
If you have unstable or limited internet, you might not be able to connect to classes
It can put a lot of pressure and expectations on you as a parent/teacher, which can lead to burn out.
It doesn't really allow for flexibility of interest or schedules since you can have deadlines and a specific work schedule.
Examples of Popular School-At-Home Curriculum
Canadian School-At-Home Curriculum Options
At the time of this posting, there are no Canadian specific boxed curriculum sets (with textbooks and workbooks) for parents to use to teach from. The closest option is ACE (Accelerated Christian Education) where you buy resources for each grade as needed, including a few Canadian content books along the way.
Distance learning and correspondence programs seem to be very specific to each province. Here are some examples:
Where To Buy Boxed Set Curricula in Canada
---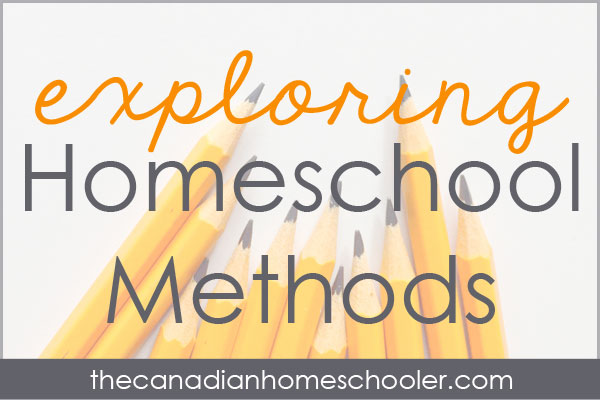 Wondering about other homeschooling methods? Follow along in this 10-day series.