Unit studies are an all-encompassing, focused approach that uses resources from all areas of a curriculum whenever possible, and provides an in-depth learning experience. Often these studies start with a core resource book, then dig into extras, involve hands-on activities where possible, and expand through many subjects such as math, language, history, geography, etc.
A unit study approach involves creating a series of activities and learning experiences that all point back to a single generalized topic. For example, a study on weather could include:
creating weather instruments
a field trip to a local weather station
watching documentaries on storm chasers
reading a historical fiction book about a weather-related event (like Day of the Cyclone)
detailed journalling of weather records for each day
comparing findings to the weather predictions
comparing historical weather data to current details
figuring out how to convert temperature from Fahrenheit to Celcius
doing an experiment that explains the water cycle
doing an experiment to create a cloud
painting a picture of what their favourite weather looks like
examining different weather patterns and learning how to predict the weather with clues
doing a craft that shows the different kinds of clouds
watching the weather channel to follow the weather-related news
volunteering to do post-storm cleanup
playing games on the computer
etc.
The idea is to dive right into a topic and explore in as much detail as possible.
Many people enjoy using unit studies specifically for history and science. In this kind of study, the goal isn't to include all subjects but to focus more closely on a single subject.
Want to see an example of what a day in the life of a unit study family is like?
---
Unit Study Benefits
Great for families with multiple ages because everyone can be learning the same thing, while adapting activities to various levels
It can focus on the interests of a child, making it more child-led
A wide selection of activities allows for different learning styles
Particularly great for hands-on learners
They can be pretty cost-efficient, because you don't have to buy curriculum but can use a variety of resources
Often can create long-term, positive memories of learning in your child
Many unit study lessons can be downloaded online and printed out instead of needing large books
Unit Study Disadvantages
Can be a lot of planning and prep work for the parent
It has the potential to be quite messy from the hands-on activities
If your family has different age ranges, older children can feel like they are being held back in group learning times
Might need to supplement unit study with additional content for other subjects like math
Examples of Unit Studies Curriculum
Recommended Resources
Where to Buy Unit Studies in Canada
These links generally offer individual unit studies as opposed to a full unit study style curriculum.
---
Unit Study Blogs
---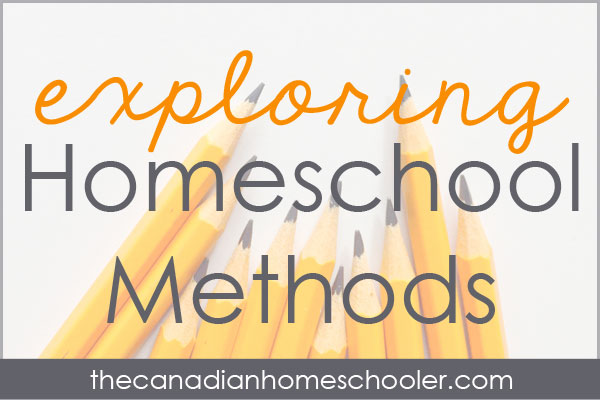 Wondering about other homeschooling methods? Follow along in this 10-day series.