This post contains affiliate links.
During the last year, I was excited to be working in partnership with Little Passports to test out their new Science Expeditions series of monthly kits.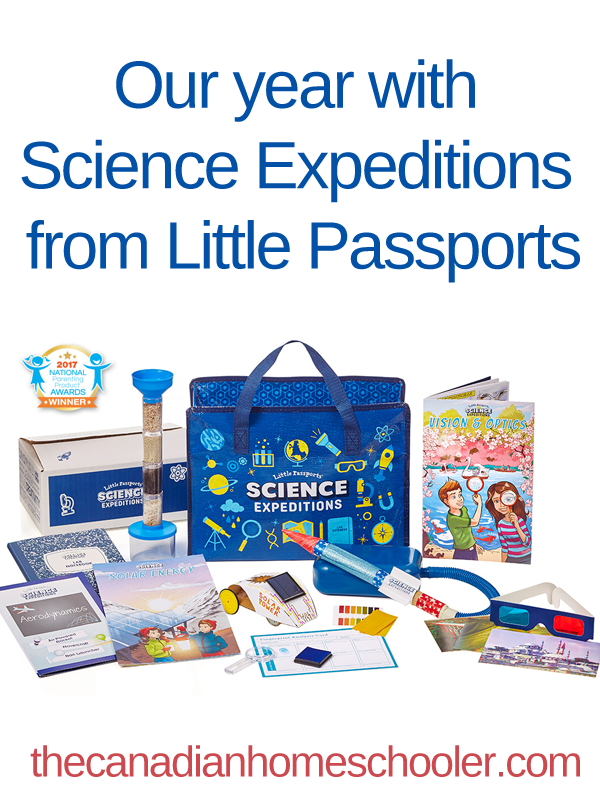 Since my middle child is an aspiring scientist, it was a perfect fit for him. While we didn't successfully manage to keep our blog posts up and running throughout the year each month, we completed every box that came through the door. Not just because the company provided them for us, but because they are just plain fun. In fact, I'd venture to say that these science kits gave us the most success for all our intentional learning experiences.
For each box, there were multiple experiments and activities, but each one also had a "big" one that really made it special for us. Some of our highlights this year have been extracting DNA from a strawberry, launching a stomp rocket, racing a solar-powered car, making a bagpipe out of a paper tube and latex glove with a straw, growing crystals, and building a spectrometer.  Over the course of the year, my son, myself, and our whole family by extension have learned about:
balance & acrobatics
buoyancy
sound
caves & crystals
elevators
What has been great about the Science Expeditions Boxes: 
We love that each Science Expeditions box has a new theme, all the materials inside that make it easy to just do the projects right away, extra resources and activities inside the booklet, and that there is a bag to keep all our "stuff" in along with a lab book for writing down observations.
We have enjoyed being able to test (and often retest) things, that we can show off our experiments to other family members and, at times, even neighbours.
The topics have been so diverse – allowing my Mr. Science to explore and discover different segments of science, learning which appealed to him the most and which didn't. (He learned he doesn't really enjoy biology as much as other science.)
As a parent, I've appreciated that there are often videos to help make experiments clearer, and also a heads-up email which lets me know a package is on its way and if I need any additional materials that aren't in the kit.
What we found hard about the Science Expeditions Boxes:
Some of the experiments really required a lot of adult participation – which was fine, for the most part, but at times left my 10-year-old feeling discouraged and occasionally frustrated. But it did allow us the opportunity to really spend time together problem solving and working through the struggles and challenges.
Our final thoughts: 
After having used their boxes for a whole year, I can honestly say that I've found the Little Passports' Science Expeditions subscription box program to be quality. The materials (other than a few small things) have been top-notch and sturdy. We can actually reuse much of them for future projects, if we want. There were so many things – both paper-based and hands-on that they really offered a lot of diversity for learning styles and needs. It easily could be used as a primary science source – especially if you wanted to go in depth more and explore throughout the month while you wait for the next box. It's complicated enough to challenge not only kids at 9 or 10 years old, but also interesting enough for the older kids at like 14 or so. We found that even through concepts might have been too hard for some of the younger kids, they loved seeing and participating in the experiments anyway. For example, the stomp rocket was perfect for all ages and drew a huge crowd of neighbourhood kids of all ages. All in all, these boxes have been a wonderful addition to our school days. I have been completely impressed by them and feel like they would make a worthwhile investment to any family with kids who love or are curious about science.