Our youngest son has ADHD and it was recommended that he do about 25 – 30 minutes of physical activity a day; preferably before our school time. To help facilitate this, our specialist suggested gonoodle.com.
Gonoodle.com is a movement based website that uses videos to get kids up and moving around. With each video watched, and hopefully moved to, kids earn points to get items for their "champ." The "champ" is a cartoon avatar that often shows ups around the site. 10 points earns an item. This is the equivalent of 25-30 minutes of actual moving.
The videos range from yoga based exercise to dance videos to zumba. The music ranges from cultural music to kids songs to popular movie based videos.
Kids have the option to "favourite" the videos they like the most.
There is also the option to choose the "Indoor Recess" megamixes, which combine several video options based on themes. These last between 10 – 20 mins and give points towards the "champ's" items. The points range from 2 – 4 points per megamix.
As a parent, I chose to sign up under the parent option, this gave me the ability to monitor how many hours and minutes based on actual watching and movement my child has done.
There are also print out activities available. There might be trivia questions based on one of the characters in the videos or seasonal activities you can do with your child.
There is also an app for mobiles but since we don't have any such device, I can not speak to how it works.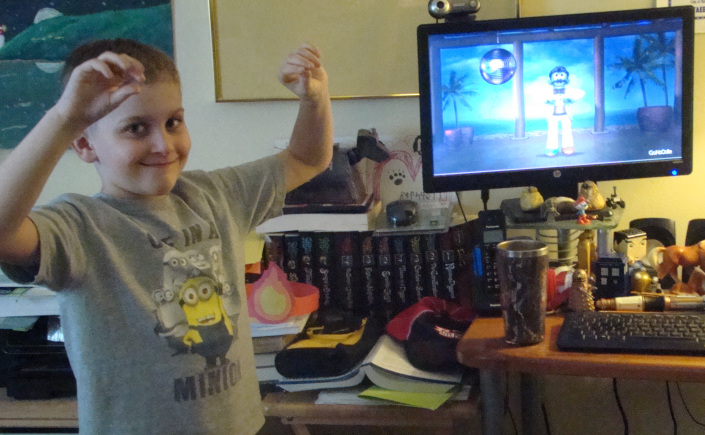 What I have found is that it is low impact enough for me to do as well, I have cerebral palsy and have always struggled with exercise. With the love of dance and music in our family, this is the perfect tool. My son and I, now, have a perfect bonding tool.
We live in an apartment and don't have a lot of space inside or outside to do physical education in our homeschooling. This works out great as it does not require equipment or lots of room. AND it is free to use and simple enough that most computer savvy kids can use it themselves.
I believe that GoNoodle is a must-have tool in homeschooling. I, also, have heard from friends that kids in their lives who attend public school, that it is being used in classrooms and the kids are excited about it…and for obvious reasons.
GamerBoy's Reaction:
"I really like how the songs help you move. The actions make it fun. I really love dancing with Maximo and the moose guy. I really like that it is fun and I can do it with my dad."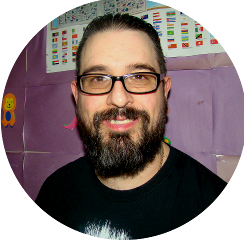 Jayson Tench is a disabled homeschooling dad to 2 children, Craftster (12), and Gamerboy (9). He blogs over at The Invested Dad where he talks about the blessings of having the opportunity to be involved actively in his kids' education; how homeschooling can be fun and not always book based.