What I reviewed:
Go Science DVDs
What is it? Science Demonstrations
on video from Library and Educational Services
Who is it for?
ages 4 – 12
How much is it?
 $8.97 US each
Where can I find it?
 http://www.libraryanded.com/
Tell me more:
Science really seems to stick to kids who can see it in action. That's what these videos aim to do – bring science demonstrations to life.
Led by teacher and science enthusiast, Ben Roy, each topic features short video segments ranging from about 3 minutes to 10 minutes, demonstrating various science topics through hands-on experiments and activities. The kids in the group watching get to participate while Ben explains what is happening in easy-to-follow and understand language. Each of these videos was originally part of a kids' TV show but has been pulled out and compiled together by subject.
There are 7 videos in the series:
Volume 1: Sound, Gravity, Space
Volume 2: Life Science, Weather
Volume 3: Air
Volume 4: Motion, Friction, Electricity, Light
Volume 5: States of Matter, Water
Volume 6: Chemistry
Volume 7: Engineering, Design, Flight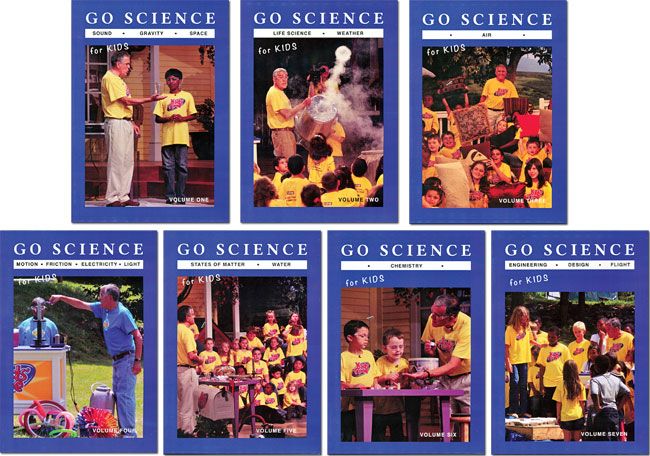 We were able to watch 2 of the videos – volume 4 and volume 7 – which covered all sorts of demos about motion, electricity, engineering, and more!
Although many of these experiments are ones that we can do at home (like pulling the tablecloth out from under plates – thank you, Inertia!), there's many that we CAN'T because they are too big, too dangerous, or need special equipment – like this sample video from the video about motion:
 What we thought:
Well, the first thing I wanted to make clear is that these are Christian videos. Each segment has a tie-in to a Christian value or Bible story somehow. (Just a heads up for my secular readers.) Personally, I found some of these a little strange being tied to a science experiment, but it didn't seem to phase my boys.
The segments themselves have a fun variety of demos, and are a great addition to your science lessons. We've been studying motion lately, so adding these segments really helped showcase more about what we've been learning.
I love that they are short and attention keeping. Far too often, videos leave my kids wandering off, but not these. They sat and watched for each one.
Mr. Roy is a dynamic speaker and teacher, and obviously very passionate about science. They were enjoyable to watch.
About Library and Educational Services
This website is an online wholesale store that sells to libraries, schools, and resellers. They don't sell to the general public, but…. as homeschoolers we get to take advantage of their amazing discounts! You have to set up an account before you can purchase anything, but it was quick and easy to do so. Since this is a US company, I tried to look into the shipping costs to Canada, but they are based on a per-purchase basis, ranging from 35% to 100% of your purchase cost.