Looking for a fun and interactive way to learn about Canadian history with your kids? I invite you to check out these Canadian History Task Cards from Creek Edge Press.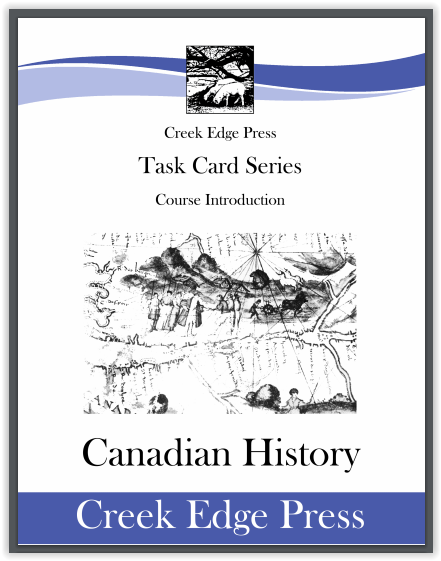 Amy sent me digital copy of the set to check them out.
These cards are designed for students from grade K through 8, allowing you and your child to personalize their learning experience based on their skills and abilities. They are a good fit for just about any homeschooling method, whether you love to learn through the use of living books, prefer a hands-on approach, want to teach your child detailed research skills, or desire an interactive learning environment for study.
In the introduction of the package, designer Amy Kate explains how to set up and use her program. Her suggestions are to create a special space, where projects and resources can be seen at all times – allowing students to be able to explore on their own time as their curiosity is piqued. I love how she has a huge list of ideas on how to build and fill that environment with rich and interesting resources. She also offers detailed advice and explanations of how to use the program for both the teacher and the student, including what she does in her home.
In the package are 30 task cards – ideally one per week, moving from pre-European contact life of the Natives who lived here to modern history. Each card consists of 6 to 10 tasks on the subject, including research topics, reading suggestions, map work, summary writing, writing biographies, what to add to a timeline, list writing, hands-on projects, and Prime Minister studies.
The text on the cards is quite wide – reaching almost to the edges. I wasn't sure if it would print on my home printer or not (because it usually has preset margin space), but I did a test page and it worked perfectly. I would recommend using thicker paper such as cardstock, or gluing regular paper onto cardstock pages when printed. After printing it all out, I cut them apart, hole punched a corner, and used a metal shower ring to attach them together. If you are using the cards with more than one child at a time, Amy suggests having them each designated a colour of marker or sticker to mark off their completed work on the card for the week. I've decided to use a separate set for each kid and am printing them on different coloured paper for easy identification. I'll probably laminate the cards to make them extra durable.
I think this program has some great suggestions and opportunities to develop skill sets – especially research and project skills. I'm always looking for an engaging way to help my kids learn. One of my boys has been frustrated by school and one of the reasons why is that he finds the predictable repetition boring. He wants to have something new and different every day. That's part of the reason that I like the approach of this program – it provides a list of varied things to do at your pace throughout the week. That means he can do something different every single day, but still be learning about Canadian history as he works through the cards. But it also provides some sort of structure, because there are tasks that need to be completed and I can put time limits and requirements in place.
Looking this program over, I realize some of the resources I've created will be a great match to use and reference, such as:  The Canadian History Timeline, Canadian history living book list, Prime Minister Notebooking pages, and even some of the activities in the Hands-On Canadian History book.
Available on the website is also a collection of links and additional resources that you can use along with the cards. These include a scope and sequence, a book list, and links to sites that will help you find pictures and maps, etc.
I think these Canadian History Task Cards are going to be a good addition to our social studies learning.