This post contains affiliate links.
This month our Science Expeditions Kit was all about bones. Admittedly my little scientist isn't as into biology as other science topics, so he wasn't really interested in doing this box at first. I decided to pull out the contents of the box and show it to my four-year-old, who was very excited discover parts of a skeleton inside. As we started putting it together, the rest of the kids seemed all migrate towards the table where we were working. Before you know it, we were all working on it together.
I will say that I found this month's projects a lot more challenging than some of the ones in the past. The kids weren't able to do them alone and I had to be quite involved to help complete them. However, some teamwork led us to finish everything successfully.
We started with the skeleton. The first step was the most challenging – attaching the rib cage to the spinal cord. The little tabs to stick into the spine were just incredibly small and didn't cooperate with us. However, with some continuous persistence (and the sad eyes of a four-year-old motivating me to be successful), I managed to connect the pieces. From there I let the kids create the rest, adding the limbs and the skull. As we worked putting the pieces together, we talked about the bones that we were looking at. We felt them on our bodies and looked to see if we could see any evidence of the bones from the outside. Shoulder blades were a favourite as they are very easy to see. We mounted the skeleton on his little stand and the kids gave him the name Jimmy the Skeleton, proudly showing him off.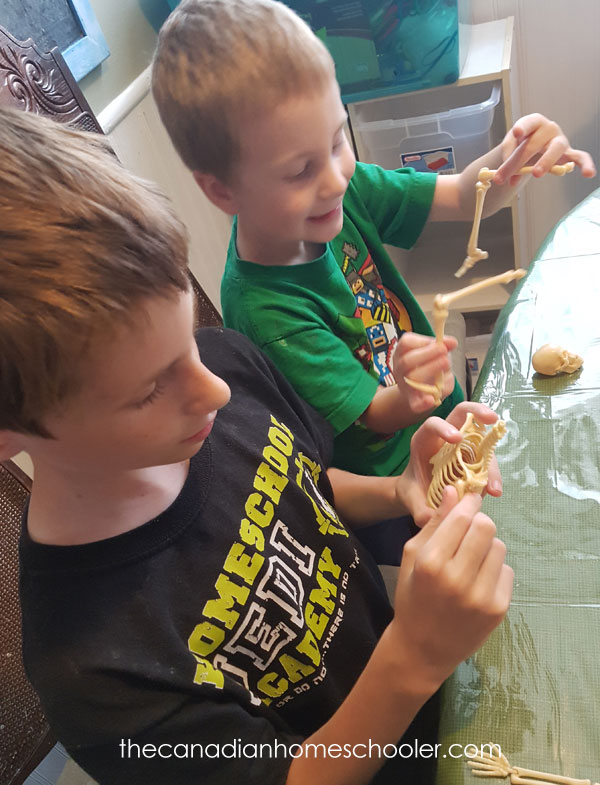 I think it's important to mention that the skeleton is not a toy but instead a model for display. He tends to fall apart if used for play.
The second activity in the kit was a robotic hand.
Basically, you create a hand that will bend and move along with your hand. It's made out of paper, some straws, tape, and string. It was a little bit tedious but really neat when it all comes together and works at the end. This one took a little bit of problem solving to get it to work in sync your fingers. It really got us thinking about how we use our hands and how they work.
The book that came with it had a great comics story about Stella & Sam as they learned about bones, how hands work, how bones heal, and some things about archaeology. The rest of the book is filled with other experiment ideas – like making a spine out of an egg carton so you can see how it moves and turns (it got "well-used" before I got a picture!)  and seeing what happens to eggshells in vinegar. My son loved the dot-to-dot, and there's even an activity to learn about the different kinds of joints we have in our bodies too (surprisingly a lot!)
We are thrilled to add another badge to his lab book. These kits have been a great adventure so far!

Want your own Science Expeditions subscription? They are designed for kids ages 9+. The cost is $21.95 USD + $5.50 USD shipping to Canada if you pay by the month, or you can go for a year subscription which drops the price to $18.95 USD a month. It's an annual cost of $227.40 USD+ $66 USD shipping to Canada if you do it that way.
You can find out more and buy a subscription at: https://thecanadianhomeschooler.com/sciencepassports
LITTLE PASSPORTS IS SENDING US A BOX EVERY MONTH SO WE CAN USE AND SHARE OUR EXPERIENCE WITH YOU. THIS IN NO WAY IS AFFECTING MY REVIEW – AS I PROMISE TO BE HONEST WITH EVERYTHING WE DO, GOOD OR BAD.