Prodigy Game is an educational math RPG program that combines the fun of a Role Playing Game with the challenges of mastering math skills. The basic structure of the game is that you get to battle monsters using magic. In order to successfully hit your opponent, you need to answer a math question correctly.
In fall of 2012, our family got the chance to test out the early edition of the game – an off-line, downloaded version that basically only had you, your bedroom to recover, an area to battle other computer characters, and a few zones where you could battle monsters for xp. My gaming geek boys were instantly hooked.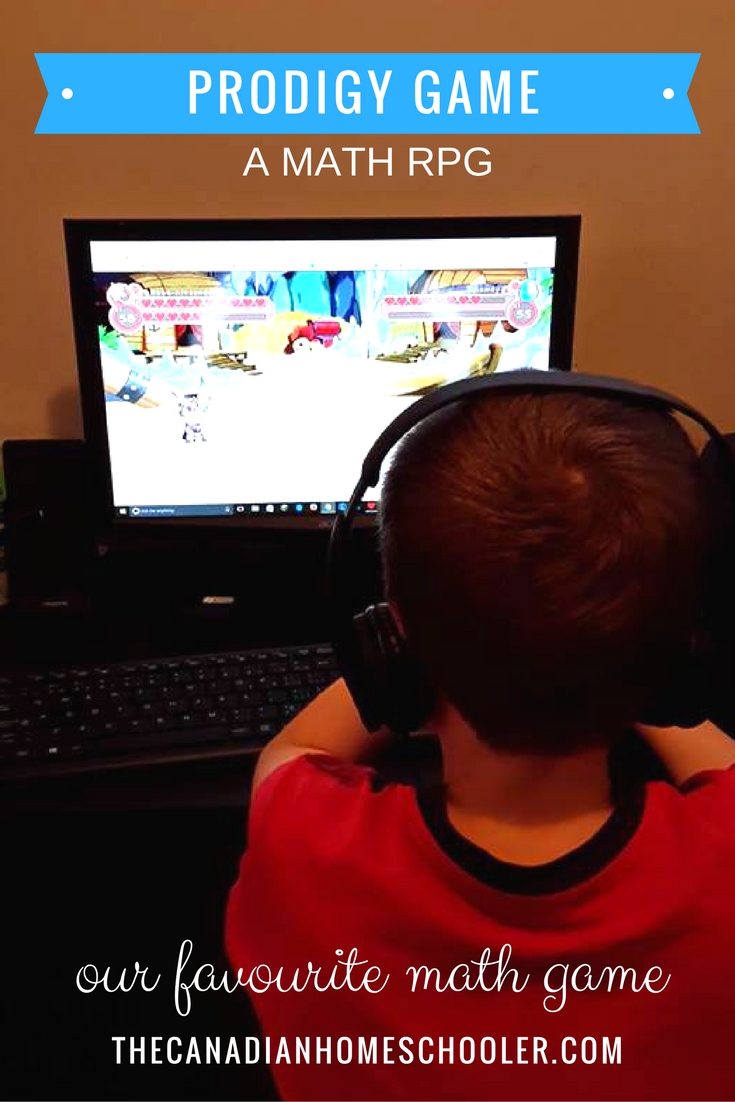 Today, the game is completely different – upgraded to a fantastic adventure game that is always evolving, changing and becoming more exciting. The fact that the development team behind this game are always making it new is part of the reason that it still holds appeal to my kids after 4 years. They are eager to check in frequently to see if there is anything new or different – and there usually is.
Math questions focus on skills for Grades 1 through 8 based on the Ontario curriculum guidelines.
You begin your gaming adventure by making your own character from the options available, customing their hair style and colour as well as their eyes and skin colours. You get to pick a name, and then you are ready to get started. A tutorial guides you through the first few activities, teaching you the battle system, helping you choose a pet, showing you how to navigate the maps, etc. From there, you are off to explore.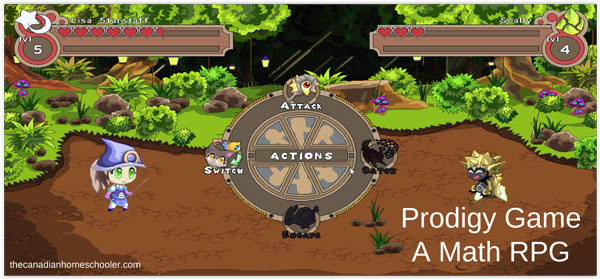 As you play, your character levels up (which earns you stronger spells), earns awards for various accomplishments, earns more pets, collects items and gold (which you can trade in for gear) and has a great adventure.
Whenever there is a battle, a screen overlay pops up with the math question and tools to figure out the answer – such as colouring pencils and number pad. There is enough room to scribble down work or problem solve. You have to answer the question to be able to successfully attack your opponent. If you get it wrong on the first try, a new screen comes up with clues and explanations of how to find the answer. If you get it wrong again, the game shows you what the right answer is and you skip your turn.
There are several different zones you can go to along the way – all detailed on the map you earn at the beginning of the game. Bosses guard each zone, so you have some work to do!

There are now also real life toys you can buy and collect in real life. They are called Epics – super powerful summoned creatures that will figure alongside your character once you put in the code that comes with your toy.

Prodigy has so many features and details about game play and story line, along with the ability to play with friends and other people….. there's way too much to write about in a single post. I recommend that you give it a try and get exploring.

The best part is that Prodigy Game is free to play. If you decide that you want to make the experience even better, they have a membership that you can buy. This gives your child special areas to explore, the ability to level up faster, access to more pets, and extra bonus items. These are just extras, though, and no matter if you choose to have a membership or not has no affect on the math skills learned through the game.

As a parent/teacher, you get access to a special dashboard. This allows you to do a lot of behind the scenes features like setting grade levels for your students, assigning specific skills to practice, and reports to see how everyone is doing – their strengths and weak areas. This is all handy, especially if you are wanting to use Prodigy to coincide with your regular math program. It can be a great way to review concepts you are learning off-line.

The team behind the development of this fantastic Math RPG work hard to keep this game fun, new, and unique while encouraging the kids who play it to excel at their math skills.

Start playing today at ProdigyGame.com