Do your kids love Minecraft as much as mine do? Then they will love these challenge cards!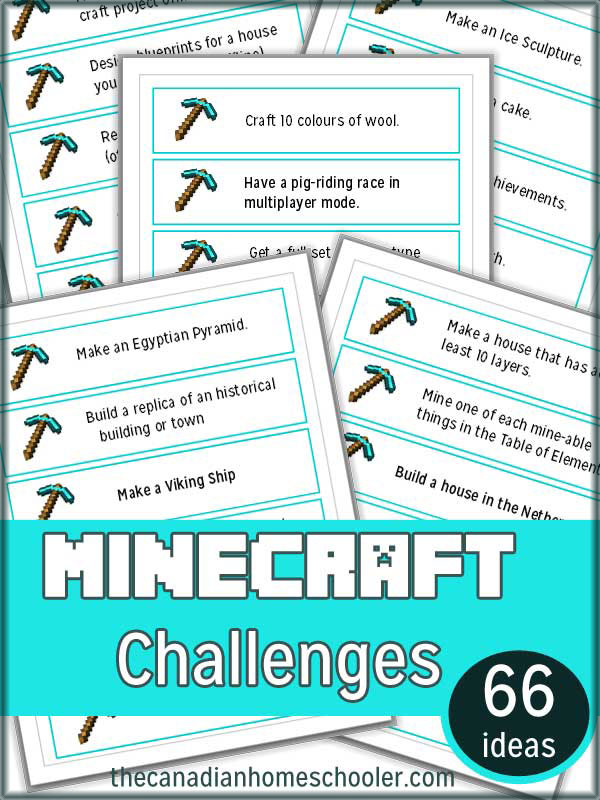 This post contains affiliate links.
There is something about Minecraft that just appeals to people young and old. It offers so many learning opportunities:
geology
art and design
coding skills
spatial awareness
logic and reasoning
But, honestly, our kids usually just want to play it because it's fun.
There are so many amazing resources to learn more about how to play the game – like these How To Guides (which my kids love).
As my children navigate through this digital world, they helped me put together a set of challenges.
Included are 66 ideas; Some are intended for creative mode, some for regular play mode, some for multi-player, and some even for off the computer!
Simply cut them up and have your child pull one out before they get started on their Minecraft adventures.
Have fun!
NOT AN OFFICIAL MINECRAFT PRODUCT. NOT APPROVED BY OR ASSOCIATED WITH MOJANG.
---
Looking for more learning with Minecraft?
Check out all the lesson activities at:
---
Do your kids like LEGO? Check out the LEGO CHALLENGE CARDS.