If you want to teach your kids some Remembrance Day Lessons, here is a great list of resources for you.
Personally, I've found this time of year hard to talk about with my kids. So I've been looking for a way to share that with my boys – who, even when they were little, have tended to think of war as video game like – cartoons throwing bombs at each other and then getting up and going again. Trying to explain the reality being much grimmer is hard to do, and teaching them to be thankful for the work that was done long before they were born is challenging.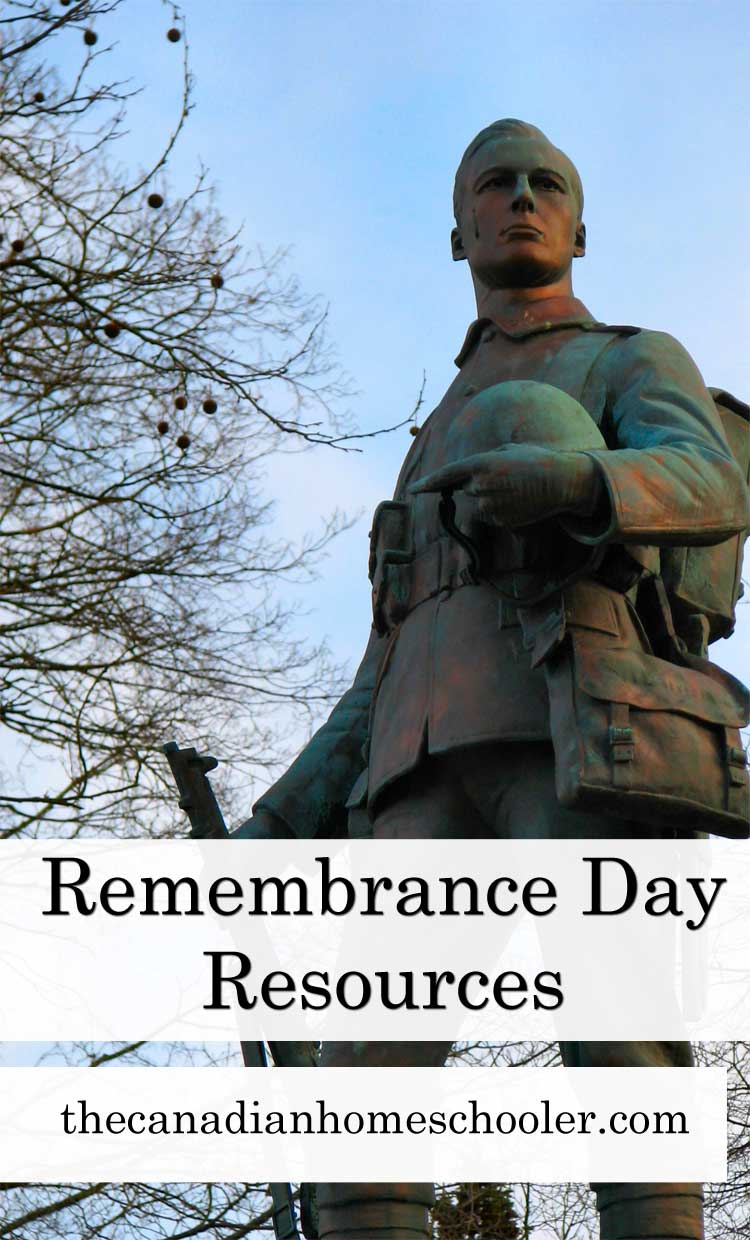 Today, my first resource for my fellow Canadians is from the Canadian War Museum. This site has many resources for learning about and honouring Remembrance Day.
The War Museum Website has a lot of other great learning tools as well, including interactive games and lessons to expand on our military history. One game that really brings the era of war to reality for kids is a game about life in the trenches of World War I called Over The Top – a "choose-your-own-adventure" style game, where the decisions the kids make while playing it directly affect if your character lives or dies. My boys really liked this game.
Another great resource is The Royal Canadian Legion, which provides a website with not only information on the Poppy Campaign, but also a discussion guide for leader and students, and a teaching guide full of information about the wars Canada has been in as well as details of things like how many soldiers died in each war, information about the legion, crafts & activities (like how to make a paper poppy), explanations of the poppy and its importance, and much more.
For the younger crowd, there are lots of Remembrance Day crafts and printables from DLTK. They also have a great collection of Remembrance Day colouring pages on another one of their sites.
Veteran's Affairs Canada has a whole section for youth and teachers that includes a lot of great materials – games, suggestions on activities to do to keep Remembrance Day a part of our lives, teacher's guides to two main stories : animals in war and Canada Remembers Times, other teacher resources, and more.
Historica-Dominion Institute has several lesson plans:
Reading and Remembrance is a great site with lesson plans and ideas (in both English and French!)
For older students (Grade 5+), this QR code worksheet will help you learn more about the Aboriginal Veterans.
If you go to the page The Little Red Poppy, click Teacher's Resources and scroll to the bottom to find a downloadable activity pack that includes a word search, crossword puzzle, reading passages, and more.
The Memory Project also has a big collection of lesson plans and other resources.
More Resources:
Today, as we pause to remember those who have been a part of war, to thank those who continue to serve, and pray for the world, may we be able to teach our children why and never have a need to experience it ourselves.
~Lest we forget. I remember.~