What is it? Online Math Practice by IXL
Who is it for? Student from JK to Grade 11
How much does it cost? $9.95/month or $79/year (additional students are $20/year).
Where is it? ca.IXL.com
Tell me more:
For this review, I was given access to the Canadian website for all three boys to test out the math review program and also to the US site to check out the new Language Arts program that is currently not available on the Canadian site (but is in the works for sometime in the future!)
The Math Website
Oh Look! CANADIAN math content online!! Yahoo!
Designed for students in the Grade JK to Grade 11 crowd, this site is really perfect for just about anyone who wants to have a way to practice their math skills. To get started you simply register, add in the names and information about each child, let them pick a cute little icon for themselves and get going.
You can pick what province you are in, so that all the work your child does follows along with that province's government curriculum. The various exercises are divided up into sections based on the learning outcome and very easy to move along with.
The whole website is open for your kid to access – meaning they have the full range of math questions available from JK to Grade 11. This means that you don't have to limit your child to a specific range and let them explore what other grades will be learning. I found this extremely funny – since my 6 year old was doing Grade 6 math questions (place values, but still!)
As they complete each set of questions, the kids earn badges and prize cards that they flip over on their game board for that grade. There are several "blank" squares that open up with a bonus prize as they keep at it.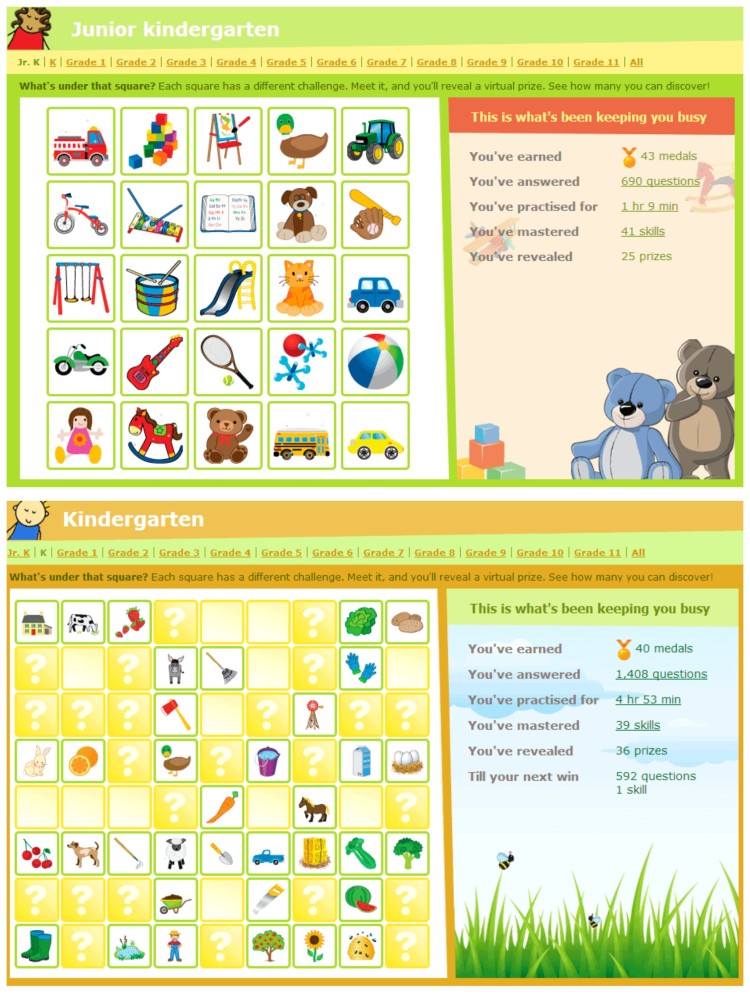 The goal of each section is for them to attain 100 on their "SmartScore" – which goes up at different variables throughout the session. For example, at first, each correct question is worth 10 points, but as they go along, each question loses value. After 90, the kid is sent to the "challenge zone", which is really 1 point per question until they get to 100. Unfortunately, if they get a question wrong, they also lose points. The idea behind this is to ensure a child's mastery of the skill before moving them on to another task. Good in theory, but potentially frustrating. Middle, in particular, finds it discouraging and can easily get to a point of being very flustered and unable to proceed successfully.
When they get a question right, they get a word of encouragement. When they get it wrong, there is an explanation on what they did wrong so they can learn from it.
Thankfully, though, if a session is abandoned in the middle, the program remembers how many points and questions they'd already completed and they can move forward from there. This has helped with tasks that started getting discouraging.
I know some people on the crew were using IXL as a way to come alongside their current math curriculum – finding the appropriate sections to co-ordinate and further develop the skill they are working on already. However, I literally just logged the boys in and let them do whatever they wanted, for as long as they wanted. It's now part of our daily school time – kind of like math gaming time. I found it interesting too to see how different my boys were.
Little just hopped around the site, picking math questions and sections at random and loving every minute of it. Middle, however, started with the first question of JK and completed the whole level before moving to the next grade. 🙂 Big tried the program and decided that he didn't want to do it.
I honestly don't see how the "prize" system would appeal to anyone over the age of maybe 9 or 10. Definitely not the Grade 11 crowd, but maybe just the challenge of completing the tasks would be enough to encourage them to continue.
One feature I like is that I can keep tabs on what they've been doing, by checking the "reports" section on the website and also because I get regular emails telling me how my child has been doing. As a bonus, you can actually print out a certificate with each achievement which is a nice little boost to your child's confidence!
You can try up to 20 questions a day on the website as a trial if you would like to see more of what it's like before deciding to purchase a membership.
Want to know what my fellow crew mates thought of it be sure to click the picture below.