My favourite quote about housekeeping is "Cleaning your house while you have kids is like trying to brush your teeth while eating Oreos."  Since we homeschool, we are home more and make more messes to clean up. It often feels like a lost cause.
This post contains affiliate links.
Housekeeping (laundry, cleaning, meal planning, etc) is so far down on my priority list that it is almost not on the list. Unfortunately, cutting it out completely would be unacceptable, would have negative impacts on my family, and probably have health consequences, so I'm kind of obligated to do it. But I hate it. All of it.
So in order to make sure that I'm successful at doing housekeeping I have to use a few tricks. Here are five ways to be more victorious at homeschool and housekeeping.
1. Plan Ahead.
Whenever you can, have a plan. That means meal plans, cleaning plans, homeschool plans, shopping plans… everything and anything. A plan can make potentially stressful and hard situations much more simple.
Meal Planning.
Some people love to know everything they are going to eat for each meal for an entire year. Some people like to look in the fridge / freezer and plan that morning. Others look in the cupboard at 5 pm and wonder what to make before the kids throw a mutiny.
Having a meal plan together is amazing, freeing, and (sometimes) more cost-efficient. Looking at the list and seeing what you have to make supper that night means that you don't really have to think. It's just one less stress off your plate. All you need to do in the morning is make sure you have the pre-prep stuff done – like take meat out to thaw or throw things in a slow cooker or marinating sauce. Knowing what you are going to eat for the week can help you save money when you go grocery shopping because you are less likely to buy extras, plus you don't need to get pizza or takeout unless you planned ahead of time to have it.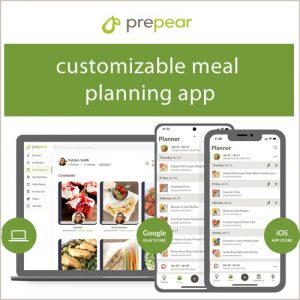 There are LOTS of places to find meal plans. Here are a few:
PrePear – this is the program that I've been using for the last year. It's got a free version where you can make your own meal plans using their recipe database or your own recipes, or you can upgrade to their gold plan where you can pick from a variety of preplanned meal plans in the marketplace- like kid-friendly, paleo, gluten-free, etc. You can make a grocery shopping list from the plans and leave reviews of meals that you've made.
Menu Planning Central – First you pick what kind of meal plan you want (Family Faves, Seasonal, or Clean Eating) and then you will get plans sent to you that have everything you need for supper each day, including grocery shopping lists and recipes.
Confessions of a Homeschooler – This mom of 4 has monthly meal plan calendars that you can print out. She also has a store where you can get her entire plan including grocery shopping lists and more.
Of course, you can also just make one up yourself too! Make a list of all the meals that you know your family likes, pop them into a calendar and TADA! Meal plan. If you want to take it a step further, put all the ingredients for each meal on a list for the week – either on paper that you can print out or an app that you can take with you on your phone. This makes grocery shopping easier too.
2. Use a system.
There are plenty of options available to help you keep a schedule on your housekeeping.
FlyLady.net – This system is a very popular one. I personally found the system confusing, overwhelming, and not my style, so I gave up on it before I started. BUT – lots of people have found great success using the FlyLady method. There are daily tasks, journalling, routines to establish, monthly habits to work on, and a community of people to be encouraged with. At the very least, you will have a shiny sink!
JustMommies – This program is all online. The website will tell you what you need to do. There is a simple daily routine to follow with morning, afternoon, and evening chores. A set of daily chores for each day, a task to do based on a monthly plan, and even some zones to tackle throughout the month, if you'd like.
Motivated Moms – The cleaning program that I've been using all year so far. It's available as an annual membership at a low cost, and you get access to a collection of printable options of daily task checklists (My favourite is the "Clean My House Planner.") All you have to do is look at the list and do what it says each day. It's simple and so easy to keep on top of.
3. Use Available Services.
As life in our society gets busier and people have less time to do the things they need to, more and more services are popping up to help. Why not use them to your advantage?
Some ideas:
Look for a local grocery store where you can order online and either go pick up or have them delivered. It saves SO much time to skip the time in the store (plus – you can save serious money too because you won't be tempted to grab spontaneous extras!)
If you hate cleaning and can afford it, pay someone else to clean your house for you. It can take a big weight off your shoulders.
There are great people out there that have made their businesses focus on running errands for other people. This can be a great solution to that long list of things that just seem to suck up all your time in a day.
4. Include the Kids – The Best Secret of Homeschool and Housekeeping Success!
If the kids are part of the family, it's a good chance they are part of the reason for the housekeeping, right? Toys, clutter, clothes, dishes, books, stuff – it all just seems to pile up. I know it can be both hard to let go of the control needed to housekeep and sometimes it's both a challenge to convince them to actually help and not feel that their efforts aren't actually helping, but getting the kids involved is a GREAT way to keep on top of tasks. Plus, it helps them develop skills for their future.
There are lots of ideas to help you implement and encourage your kids to do their share around the house.
One method that worked successfully in our home was to make cards for each room of the house with a checklist of the things I expect done in order to be considered complete. The kids pick a card, do the tasks, then flip the card upside down when done.  Another has been to write out the list of jobs for the day on a whiteboard and let the kids decide which they will each be willing and able to do for the day, then be accountable to finish them properly. You will need to find a method that works for you.
If you are wondering what chores your kids can do at their age, here's a neat Age Appropriate Chores Printable. 
Teach Them To Do It Alone.
Ideally, getting the kids to do things for you would be perfect. Teach them the skills they need to be able to do the tasks that take up too much of your time. Add home economics to your lessons. Teach them cooking skills so they can make supper. Teach them how to do laundry, buy groceries, do small house repairs, and all the extras around the house so that you can hand over the reins.
5. Everything has a place. Or you get rid of it.
One trick that I find helpful is to find homes for everything. If everyone knows where something belongs – it's less likely to end up in a pile somewhere or all over the table or floor. Things need designated homes. Admittedly, this is an eternal work in progress in my home, and then just when I think I have everything figured out, something pops up that mixes this up again. BUT – when things are settled, it much easier and faster to clean things up.
Purging the things from your home that are just filling it with clutter and chaos can really help you feel more at peace. Some people swear by minimalism, others love the KonMari method. Again, find things that will work best for you. If you are like me and the struggle to keep it organized is constant, I invite you to check out my "Organize Your Homeschool in 20(ish) Days Challenge ebook." It might help you get started.
The secret to good housekeeping is just to do it and keep at it. Hopefully, these tips will help you better be able to manage your homeschool and housekeeping.
---
Want more tips on how to better handle the different parts of your busy life? Check out the other posts in this 10 day series: Homeschooling & The Myth of Balance.