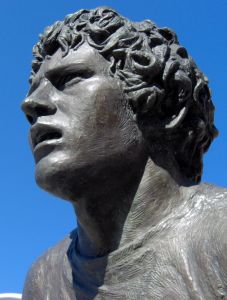 Early in the 1980s, a young Canadian man named Terry Fox raised over $24million for cancer research by running across the Maritimes, Quebec and most of Ontario – with the intention of going all the way. As a teen, one of his legs had been amputated due to bone cancer, meaning that run across Canada was made with a prosthetic leg and a lot of determination. Unfortunately, the cancer came back and ended his journey while he was still in Ontario.
Today, his legacy lives on through community and school events held throughout the month of September – runs to raise money to help the fight against cancer.
To find out more about the run, the fundraising, and how to get involved, visit http://www.terryfox.org/
If you'd like to teach your kids more about this amazing man, the Terry Fox Foundation has put together a series of lesson plans to choose from. Designed for students ranging from Grades 1 through 8, you can choose either national or Ontario-specific plans. They deal with the topics of cancer, what makes a hero, analyzing media coverage and more.
The CBC Digital Archives offers lesson plans surrounding news footage and videos of events such as Terry Fox's run. Some lesson outlines here include an intro to Terry, creatively writing a journal as if they were Terry, and creating a memorial service.
The BC Sports Hall of Fame has a full lesson plan for grades 4-7 that examines how come the legacy of Terry Fox has lasted so long and at the whole experience.
The Little Red's TreeHouse has put together both a learning package and a craft/activity booklet which you can download. [Here's a Review.]
If you would like to watch a movie, there was a made-for-tv story of his life that was aired a few years after his death. You can watch it on youtube.
Books about Terry Fox can be found at the library under the call number : 362.1969940092