There are two basic ways to create a story. The first is to sit down and just start writing a story, throwing your ideas onto a page and hoping it becomes a developed adventure. The other way involves a lot of planning and diving into your adventure before you actually start putting your story down on paper. This resource is an easy story planner to help pull all your ideas together if you choose option #2 for your creative writing.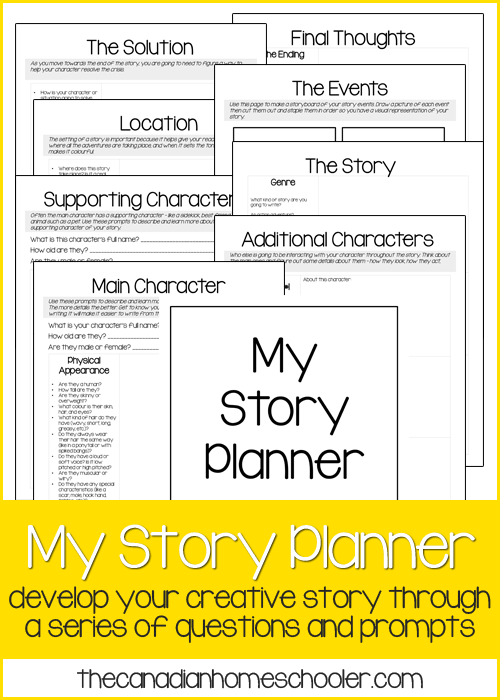 This story planner will help you think a lot about all the aspects of the story you are going to write. It will challenge you to think in depth about your character, your setting, the problems and solutions, and the events along the way. It's a great way to flesh out ideas and throw yourself into the adventure so you can envision the people, places, and struggles when you go to share them with others.
Included in the 13 pages of My Story Planner:
Main Character: Physical Appearance, Personality, Their Family, Hobbies, Habits, Occupation.
Supporting Character Details
Additional Characters
The Story: Genre, Point of View, The Plot
Location/Setting
The Crisis
Outline of Events
The Solution
Final Thoughts: The Ending, The Title, Your Reader
Each topic has a bunch of questions to help you think about something you might not have considered before. You don't have to answer every single question – just use them to get your thinking going! Do as much detail as possible to make it easier to bring your story to life!
You can use this for more than a novel, too. What about a video game? Most of the great ones have a terrific story to give you a goal to work towards. Or a movie? You can use this planner for that as well. Think outside the box!
Need something to get the creative juices going? Check out this list of creative story starters.