It's that time of year again – when the sap starts moving and it's time to get collecting. Maple Syrup is a Canadian icon and a tasty part of our identity!
Before Visiting a Sugarbush
Identifying Maple Trees in Winter
Can you tell which tree is a Maple tree in the winter? It's much easier to know which tree is which when there are leaves and other evidence in summer. Here is a guide on what to look at – the buds and bark of the tree.
---
The History of Maple Syrup
The first people to make syrup were the Indigenous peoples. They created the original method for collecting, evaporating, and using the sap of the trees to make a sweet treat. This video is from one group of Dakota peoples in Minnesota, USA which explains how it was done long ago and how it has changed today.
---
Maple Syrup Educational Resources & Books
Maple From Canada has a full multi-lesson program available with teacher guide and activity book on their website. It covers the ideas of seasonal changes, the ecosystem found in the maple forest, as well as the history and production of maple syrup.
The following books are affiliate links.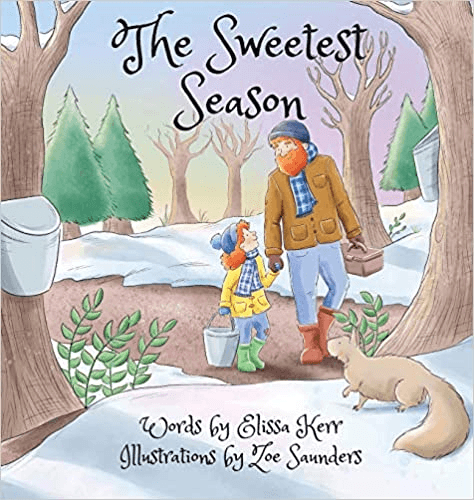 ---
Hands-on Activities
Taste Test : Put a little artificial syrup and real maple syrup into two unmarked containers and have your child taste test. Can they figure out which one is the real one?
Comparison Taste: There are many tasty sweet things found in nature and created by people. Compare the taste of honey, molasses, and corn syrup with real maple syrup. Which one is your favourite?
What is Evaporation: Place a pot of water on the stove and bring to a boil. Observe the steam rising from the pot (with eyes, not fingers! No one wants to get burnt!) Place a lid over the top of the pot for a moment and then observe the underside of the pot to see what steam really is.
---
Visit a Maple Syrup Sugarbush
If you live somewhere in Canada where you can visit a maple syrup farm or join into a syrup festival, it's a worthwhile adventure for your family.
Don't worry – if you can't make it in person, you can take a virtual trip to the sugarbush.
---
After Your Visit to the Sugar Bush
Lessons & Resources
This maple syrup lapbook is full of little booklets and activities you can do with your kids. You print out the mini-books and glue them into a set of file folders. It covers production, colouring, tree identifiction and more.
Recipes
One almost obligatory part of maple syrup season is to have pancakes with syrup.
But there are a lot of other tasty maple treats you can try as well. Here is a handy Jr. cookbook of maple recipes.
And don't forget – if you have snow, you can try to make snow taffy.
This post was originally published in March of 2015 and has been updated in 2023 with new links and resources.
Latest posts by Lisa Marie Fletcher
(see all)