Learning about different perspectives helps all of us be more understanding, compassionate, and respectful of people in all walks of life. As Canadians, one vital perspective we need to include in our lesson plans is that from an Indigenous viewpoint. In this blog post, you will find Indigenous Education Resources that you can use in your homeschool.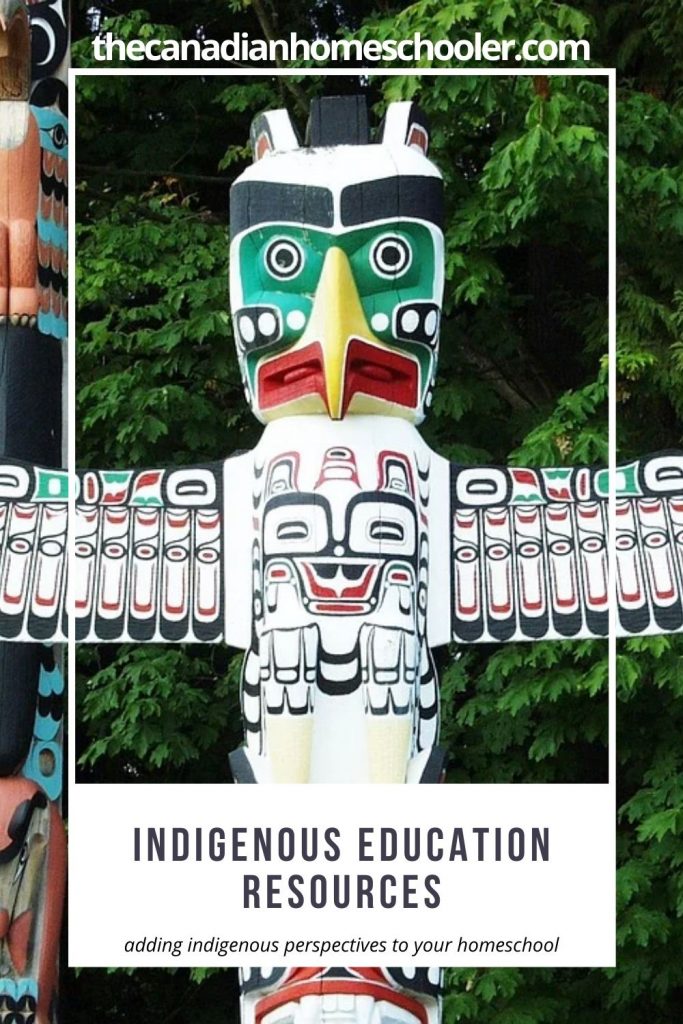 This post includes affiliate links.
LESSON PLANS ABOUT INDIGENOUS HISTORY AND PEOPLES
Indigenous Perspectives Education Guide
Presented by Historica Canada
Grade Range: Middle – High School
Price: FREE
This set of downloadable files includes a teacher guide, timeline, and worksheets that you can print out and use, following history from the time of contact to today.  It covers things such as terminology, realizing that there multiple cultural groups included under the word "Indigenous" – and that experiences of one group may vary from others. Divided into six sections, the guide offers information about each era of history before diving into a set of Activities and worksheets for each.  These activities include things such as mapping, looking at Primary Sources, analyzing the Indian Act and treaties, and taking time to understand the Truth & Reconciliation Commission's purpose.
Treaties and the Treaty Relationship
Presented by Canada's History/KAYAK Magazine
Grade Range: 3 to 12
Price: FREE
Canada's History is a magazine, and this special digital edition focuses on treaties and the relationship between Indigenous peoples and the British crown from an Indigenous perspective. Included are a series of articles and insights to the treaty relationship. KAYAK offers some articles for elementary aged students. In addition to the actual downloadable PDF magazines, you can also download a PDF full of lesson plans that build on these articles and get students to dive in more deeply into the conversation of treaties and how they benefit and impact those involved – in the past, today, and in the future. Adaptations are included for kids in the grade 3-6 range.
Treaties in Canada Education Guide
Presented by Historica Canada
Grade Range: Middle School
Price: FREE
This set of downloadable files focuses on treaties in Canada. Students complete activities like primary source analysis, examining a timeline, completing some treaty research, and case studies.
The Learning Circle: Classroom Activities on First Nations in Canada
Presented by Aboriginal Affairs and Northern Development Canada
Grade Range: K – High School
Price: FREE
This series of 4 resources includes classroom activities for a variety of ages to learn more about First Nations. Each level is presented in a series of themes, such as water, the family, First Nations heroes, storytelling, and seasons, etc. These can include discussions, crafts, hosting a family picnic, going on a field trip or having a special guest, videos, and more. The high school version presents five different stories of various Indigenous youth and asks students to learn from them. Topics include understanding lifestyles, comparing media stereotypes, and examining art. The website that hosts these resources also offer other activities as well, such as stories, fact sheets, and additional lesson plans.
Indigenous Canada
Presented by the University of Alberta
Grade Range: High School – Adult
Price: FREE to audit course
If you or your older students would like to study, learn, and understand more about Indigenous perspectives of history and today, this program may be a good option for you. Presented in a series of short videos, readings, and quizzes, topics covered include the fur trade, treaties, residential schools, political structures, ecological knowledge, art, and community.
Indian Residential Schools and Reconciliation Resource Guides
Presented by First Nations Education Steering Committee
Grade Range: 5, 10, 11/12
Price: FREE
Created to work with the BC Learning Outcomes, these teaching guides aim to present reconciliation between indigenous and non-indigenous peoples through understanding history and culture. Lessons include literature studies, archival research, and videos to introduce and communicate about residential schools in a a sensitive way. The grade 5 study mostly focuses on children's books while the high school versions go more in-depth with a variety of activities and resources. Included are printable worksheets, other resource suggestions, and more.
Education Resources
Presented by the National Centre for Truth & Reconciliation
Grade Range: K – Adult
Price: FREE – paid, depending on which resource
This website has a list of resources listed and linked from all sorts of other websites and publishers, divided up into grade levels such as K-5, Grades 4-6, etc all the way up to adult. You can find English and French book recommendations, find new apps and websites, and much more. When you click on a resource, scroll down to the "description" section to find links.
Residential Schools in Canada: History and Legacy Education Guide
Presented by Historica Canada
Grade Range: (not provided, but personally it looks like it's geared to middle/high school – review it first before using)
Price: FREE
This program is a full-colour guide that helps to tackle the struggles and events of the residential school experience. Activities include listening to a podcast series about residential schools, watching videos and discussing, analyzing primary sources such as photographs, completing worksheets, and reading articles for discussion. Students will learn about the experiences of indigenous children, the intergenerational trauma, and the truth and reconciliation commission.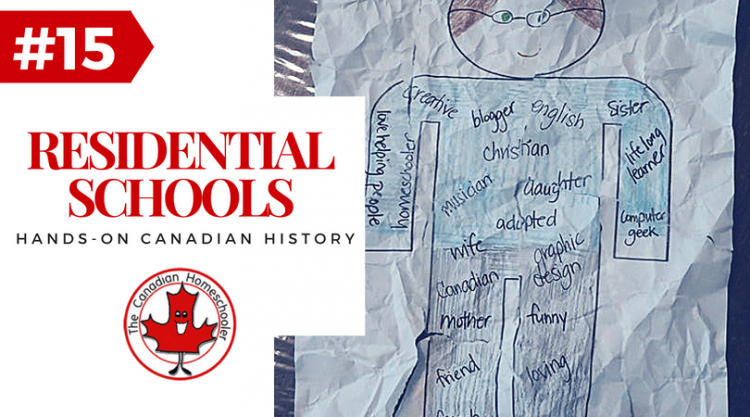 LESSON PLANS FOR SUBJECTS USING INDIGENOUS PERSPECTIVES
Learning First Peoples Classroom Resources
This set of guides from  the First Nations Education Steering Committee offers ideas and suggestions for teachers on how to include Indigenous resources and perspectives in various subjects and grade levels, like math, science, and English. For the most part, these are intended for teachers to use to be able to learn how to be inclusive with their teachings, although some do offer actual activities that you can use.
National Centre for Collaboration Indigenous Education Resources
This free resource website is packed full of lesson plans for just about every subject you could want to cover: art, science, history, math, nutrition, family, and more.  They range from ECE through high school and include a wide variety of different Indigenous communities and their teachings. For example, you can learn about Inuit drumming, gathering traditional medicine of the Stó:lō Nation, and try your hand at Salish weaving. Lessons are presented through many different methods such as worksheets, videos, website links, recommendations for guest speakers, etc.
Backyard Science
Encouraging students to study nature around them with a combination of both western science and Indigenous knowledge. Provided for free by the Mi'kmaq people in the east of Canada, you simply need to sign up to receive access to nine different topics in a downloadable file resource. Topics covered include plants, birds, the night sky, oceans, weather, ecology, climate change, forces of the earth, and properties of matter. There are four editions available for each, allowing you to pick on that aligns best with the provincial learning outcomes in either PEI, Newfoundland/Labrador, Nova Scotia, and New Brunswick.  Each contains beautiful photographs and illustrations, informational text, traditional stories, and activities you can do at home.
REFERENCE MATERIALS
Indigenous Peoples Atlas of Canada 
This four book, hardcover reference collection, presented by Canadian Geographic, is like an atlas and encyclopedia in one. Featuring numerous maps, articles, and photographs, these books are separated into the topics: First Nations, Inuit, Metis, and Truth & Reconciliation. See some articles and learn more about this set at https://indigenouspeoplesatlasofcanada.ca/
21 Things You May Not Know About the Indian Act: Helping Canadians Make Reconciliation with Indigenous Peoples a Reality
Considered the essential guide to understanding the legal document known as the Indian Act, this book explains it in detail as well as helps to share the impact it has had on multiple generations. This book is good for adults and possible late high school with discussion.
BOOKS
Authentic First Peoples Voices for Use in K-9 Classrooms
This free download by the First Nations Education Steering Committee (FNESC) explains what an authentic text is and how to evaluate resources, as well as providing a detailed list of both fiction and non-fiction books which use First People's knowledge and viewpoints.
Raven Reads
This subscription box focuses on providing quality Indigenous literature for both adults and kids. Choose which box works best for you and how often you would like to receive them – either quarterly or bi-annually. Adult books include a book written by an Indigenous author, a letter from the author, a trinket, handmade craft, and information card. Kid boxes include a few children's books to help build your library.
VIDEOS
First Nations Films
This company produced television documentaries and dramas by, for, and about First Nations peoples. These videos provide a visual opportunity to learn more about topics such as treaties, residential schools, lacrosse, medicine people, native role models, and much more.
ADDITIONAL INDIGENOUS EDUCATION RESOURCES WEBSITES
First Voices
Want to hear or learn different Indigenous languages? This website offers kids the opportunity hear how to pronounce words in nearly 60 Indigenous languages – including Cree, Dene, Mi'kmaw, Huron-Wendat, and many more. Simply click on the language you would like, pick which theme of words you want to learn from, and then click the little triangle play button under each picture to hear the word spoken. The kids' portal also includes phrases, songs, and even some games to review the language and words you've been learning.
Four Directions Teachings
This website hosts a beautiful presentation that shares the value of oral storytelling by elders and teachers from five different groups: Blackfoot, Cree, Ojibwe, M'ikmaq, and Mohawk.  Hear stories about creation, ceremonies, dancing, drumming, the medicine wheel, and much more. The original presentation was designed to use Flash player, but you can also access an HTML or a PDF version along with an audio file to listen to the narration. The website also provides teaching resource kits for each narration, including lessons and activities for primary, junior, and intermediate students.
INDIGENOUS STORES & PUBLISHERS
Strong Nations
This online store and publisher, based out of BC, aiming to provide quality Indigenous literature for kids, teens, and adults as well as art. You can find many amazing Indigenous Education Resources on this site – take some time to look under their "Educator's" tab for books on various school subjects. Also on the site are other neat things from CDs and DVDs, to puppets and bath toys, to stamps, puzzles, and card matching games. When you look into the kid and teen book collections, you will find that suggested grade levels are provided to help know what range they are intended for. Everything that has Canadian content is clearly marked, too.
Highwater Press
Based out of Manitoba, this publisher shares works of Indigenous authors – especially for children and youth. They publish graphic novels such as This Place: 150  Years Retold – along with matching teacher guides. You can find a collection of great children's picture books that cover topics such as residential schools (like When We Were Alone) and the seven teachings.