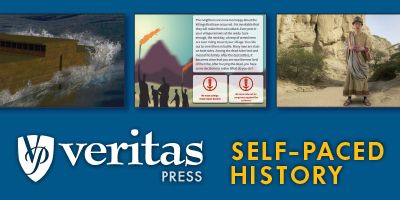 What I reviewed: 
Veritas Press Self-Paced History: Middle Ages, Renaissance and Reformation
What is it? 
A self-paced online history course
Who is it for?
Students in 2nd to 6th grade
How much is it?
$199
Where can I find it? 
http://www.veritaspress.com/
Tell me more:
Veritas Press offers online courses based on a Classical Christian approach to learning. There are a lot of options to choose from, but we picked the self-paced history course based on the time period of the Middle Ages to Reformation (~400 to ~1600).
The program includes a series of 160 online lessons and tests, combined with a set of detailed informational flashcards. This particular period of history includes topics, such as:
Vikings and Barbarians
St. Benedict & Monasticism
Charlemagne
Alfred the Great
The Feudal System
William the Conqueror
The Crusades
The Magna Carta
Joan of Arc
The Black Plague
Gutenberg & Printing the Bible
The Renaissance
Martin Luther
John Knox and the Reformation
I admit. I personally geeked out a little by this opportunity, because this is my own favourite period of history. Originally, I had planned to use this as history for all my kids (who range in age from 6½ to 10), but it proved to be too much for the younger kids so I assigned it to my oldest.
Each lesson is presented through a series of slides, usually between 16-25 different sections, that offer a variety of activities. For this time period, the main teachers are 2 characters dressed as monks.
In a conversational style, these two (and their little gargoyle friend) explain various events and people in history. It's like they are sharing a story and there are plenty of silly moments that cause my son to laugh out loud. In the background are images of related places – such as modern day locations of historic spots. Broken up in between these teaching sessions are various interactive activities: spelling challenges, matching games, putting names on a map, word searches, mini-quizzes, etc. This offers a different way to take what they've been learning about and making them be involved.
Each session includes a review game. So far, we've seen a soccer themed "pong" style game, a viking dragon boat game, a quest style game where you explore a monastery to find a key, designing mosaics, and saving some books that are falling from the floor above. Even the review quizzes are done in a fun, creative way – with silly responses and sounds or unique imagery – such as a newspaper or a monk's workstation.
There's also a song specifically made for this unit, which is repeated every lesson, to help kids learn the sequence of events in a format that is well known to be effective: music.
At various lessons throughout the program, there are assignments and projects to complete offline. For example, in the unit about monasticism, students are prompted to try their hand at calligraphy and illumination via a printout.
Each topic comes with a flashcard. One side has a very colourful photo or piece of artwork, while the other side has a synopsis of the unit with key information and where to get additional references. During the course of the lessons, each card is read, studied, and reviewed. The only thing they ask is that the parent/teacher does not allow their child to reference the card on the days where there is a test.
Both the student and parent dashboard has a list of grades received for each quiz or test, as well as an overall evaluating grade, if this is something that is important to you.
What We Thought
When we first got the program, I was a little put off by the amount of saints and church history they had included. It got me wondering more about the Classical approach to homeschooling (which I am admittedly not extremely familiar with) and also about the religious basis for the program. After talking to some other users of the program (and also some classical homeschoolers), I've come to realize that these topics are quite relevant to the Middle Ages as the church was being established and changed. It's almost integral to the events of this period of time.
Sometimes the volume difference between the learning segments and the playing sections was extreme. It wasn't hard to turn down the speakers, but it did often give us a jump.
What I've really enjoyed about this program (other than learning more about some amazing moments of history), is that my son can do the lessons completely independently. He just needs to log on, press the "launch lesson" button and he's off. It makes my life so much easier, and (despite the occassional complaint which I think it more related to the idea of "school" than this program), he is happy to do it and finish it quickly each day.
The bottom of the screen has the number of slides each day, so he knows exactly how much he has to do because he's finished. That concrete number really helps him keep focused and willing to keep going. They aren't too long, and since it's all broken up with some fun in the middle, finishing each lesson is completely obtainable for him.
Final Thoughts
This program is detailed, entertaining, caters to many different learning styles and methods. We are really enjoying it.
Find out what my other crew mates thought about Veritas Press by clicking this button.