Whether you are piecing together your own curriculum, adding to the curriculum you are already choosing, or are just looking for some materials to help teach your kids about Canadian money, there are tons of excellent resources out there to use.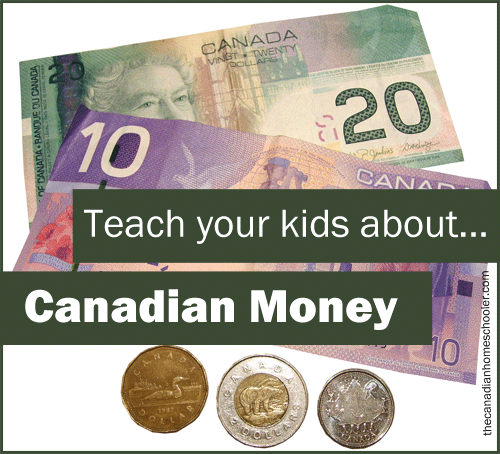 One of the first things to do is teach your children to recognize the faces of various coins and then to connect those coins with their value. Fun ways to do this is through play. You can use real coins, paper sample coins that you cut out yourself, or play money.
Money Manipulatives
Once your child is familiar with each coin and their value, the next step is to understand how they add up together and subtraction for change. Setting up a mini-store so your child can use money first hand is a great way for them experience handling money. Price things within whatever total limit you want and get them to "buy" stuff. For example, if you are working on only using dimes, nickels, and pennies – keep the prices under 20 cents for their purchases.
It can also be handy to teach our kids about the fact that we no longer use pennies at stores. Learning how to round up or down is an important skill for our young shoppers.
Games & Activities
Online Games & Practice
IXL.ca – review questions and exercises based on money for all grades
Canadian Currency for Kids – a visual reference of each Canadian coin and bill from a penny to $100.
Money Master – choose Canadian Currency and level of difficulty, then drag the coins into the box to create the requested total.
Videos
Worksheets and activity pages offer opportunities to practice using money in a variety of ways and scenarios without having to set things up.
Workbooks
Worksheets
Want to know more about money in the past? This can be a fun activity to show kids how things have changed over time.
History of Coins