Last year I began to notice that my son (now 7) was quite behind where he should have been, had he been in public school. Now, sometimes being behind isn't that big of a deal, as homeschoolers, because the whole point is to go at the child's pace. However, he was 2 years behind his peers. Math was always a time of frustration and tears and loathing (towards math). No matter what we did he just could not get basic concepts, like place value. I'm not one that needs my kids to love math. But I don't want it to be such a negative thing that they avoid it at all costs.
This is when I first found Math-U-See. The goal of Math-U-See is "to produce confident problem solvers who enjoy the study of math."
We decided to give Math-U-See a try. Math-U-See is a multi-sensory conceptual math program covering everything from beginning level (Primer) to Pre-Calculus. It is different than any other math program I've used, in that the child is to attain full mastery of each given concept before moving forward to the next lesson or to the next level.
We took a placement test, which is free, and learned that we needed to begin with the Alpha level. We are currently using Alpha level for our 7 year old and Primer for our 4 year old. What I love is that students are not put in grade levels, but instead, they are placed by skill level. As a result our 7 is essentially learning typical Kinder and 1st grade concepts all the while believing he's in 2nd grade. (Kids often wear their grades like medals of honour).
Math-U-See was created by Steve Demme, a math teacher whom has taught in all grades levels up to one course at a college. Originally, he created worksheets for a small homeschool co-op. It quickly grew into a success and as the need grew Steve wrote instruction manuals to help parents teach his workbooks. He also created videos of himself teaching each concept. There are great videos on the Math-U-See website where Steve explains the program, the placement system, and then a few video examples of what you'd find in your Instruction Kit.
A full package, in any level, includes:
A teaching kit, which contains the Instruction Manual and DVD lessons
 A student kit which includes a student text and, a test and activity booklet.
 Manipulative blocks, which are necessary for the program, from Primer up to Algebra 1. Fraction Overlays are needed for the Epsilon level, and Algebra-Decimal Inserts are needed for Zeta, Pre-Algebra and Algebra 1.
In addition you can get a skip counting and addition facts song CD, as well as a wooden box set to sort your manipulative blocks (which is something I now wish I had bought).
Around the homeschooling "water cooler" (i.e. group meets and conferences) I've heard many people talking about the cost of the the Math-U-See manipulative blocks and recommending local stores that sell cheaper cuisenaire rods. I can say with certainty that these are not the same (I have both kinds).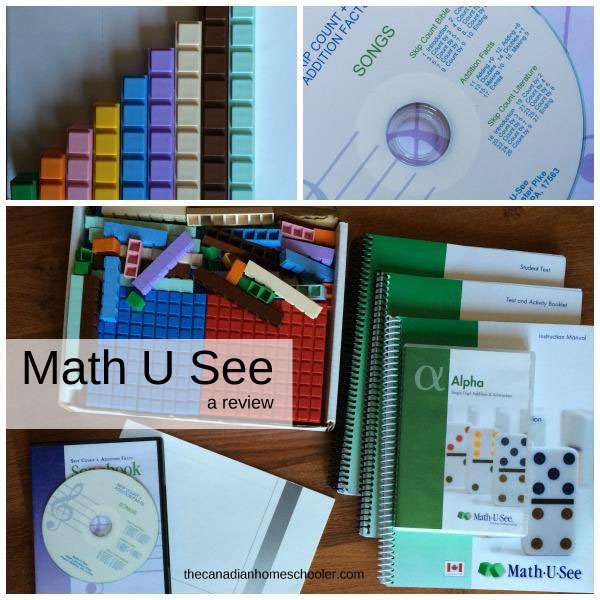 For one, the Math-U-See manipulatives are blocks. One of the tips Mr. Demme gives, in the instruction manual, is to just allow your child to play with them – to build with them. In this way, they familiarize themselves with the color in relation to the number (like choco-eight), and afterwards they will begin to learn math facts just by playing.
I have seen this in my son one day during free play. He was building a library and parking garage and suddenly said, "Mom! I just learned that 6+4=10!!", and continued spouting facts for the next half hour he played!
In addition, the blocks correlate later to the fraction overlays as well as the algebra-decimal inserts. What a typical lesson with Math-U-See might look like:
If we are beginning a new lesson, I will read the overview in the teacher's manual. This can also be read by the student for solo work, if he/she is old enough to do so. After the overview we, together, will watch the lesson on video. The video lessons are short, maybe 5 or so minutes each.
Next he will do a lesson practice from the workbook, and continue to do a lesson or activity every day.
Within each lesson the student is to "build, write, and say". He is to do as many (or as few) problems as necessary, practicing until he achieves mastery. There are online drills and downloadable worksheets, if needed.
Games and activities are suggested for each lesson, in the instruction book to help achieve mastery in a fun way, not just with worksheets.
After mastery is demonstrated, which is done by your student teaching back to you, you move onto "systematic review". Systematic review pages review new material as well as provide practice for material the student has already learned. Lesson tests are then done, from the Test and Activity Booklet. Each lesson also has a fun extra activity to do, in this booklet.
Now we're ready to move onto the next lesson!
One lesson typically takes us one week to complete.
My Thoughts:
To be honest, at first I was so overwhelmed with Math-U-See and all the different material needed and provided. I think I was looking for a quick fix, sort of like an overnight success. I want, probably what a lot of busy homeschoolers of multiple grades want, a simple and fast "do this" solo work, which in reality isn't fair. And in reality isn't going to work. That attitude is going to get you exactly what I had. A frustrated kid, that doesn't understand, and a frustrated mom that doesn't want to sit down to teach because she has "too many other things to do".
I was upset when I opened the teacher manual and seen the first lesson was 6 pages. 6 pages!? Who has time for this!? But what with the cost of the program, you can bet I didn't throw it aside. I stuck with it. I made the time, and you know what? It was so worth it.
What I learned is that, like with any new curriculum, it just takes more than a few hurried minutes to find a groove and learn the ropes.
What I also learned, is that most lessons in the teacher manual are not 6 pages. Yay!
After one lesson with Math-U-See, Connor finally "got it". Lesson one in Alpha level is place value. This is something we've struggled with for far too long. Connor is a very kinetic and play based learner. Having such a multi sensory program works perfect for us. We still do the worksheets, because they are important too, to learn formation, but it's not the only lesson now. Now he can "see it, build it, write it, and say it".
Here, in the photo below, Connor is learning place value with the provided mat, Decimal Street. Mr. Demme has come up with such a fun and creative way to teach this. The students learn a little story, and then basically just play it out. After Connor learned this (which was a very short time), he taught it back to his dad and then continued playing for quite some time. Math is now fun.
In lessons that followed, instead of having Connor teach back to me, I'd have him teach to his sister (4), since she was so curious anyways. Win win!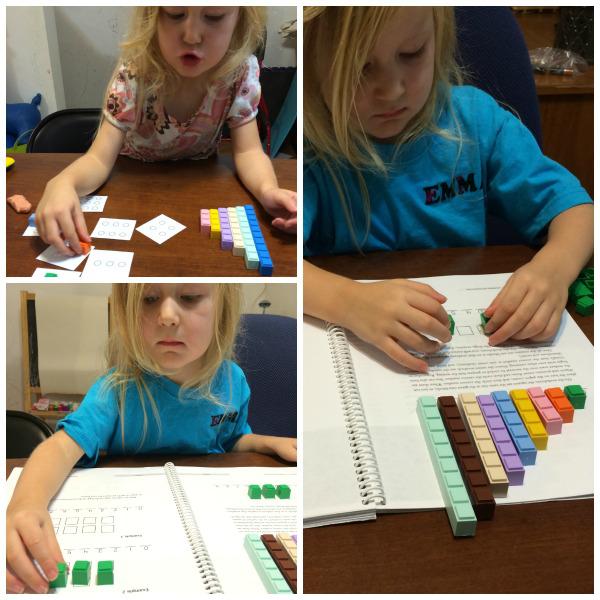 On her own, Emma works in the Primer book. The Primer book is just an introduction to math concepts with no mastery required to move on. The point is just exposure and fun.
Canadian version:
Our version of Math-U-See is specifically for Canadians. Math is math, in any country. So the only difference you will see between Canadian versions and the U.S. are this:
 The metric system is used in place of imperial
 Special spelling is used where appropriate – like "colour" vs "color".
Other than that, from what I can see, it's all the same.
—
Debbie West is a homeschooler to 3 children, Connor (7), Emma (4) and Sam (2). She blogs over at West Word Blog, where she talks about her homeschooling adventures, mothering, and sometimes her photography.