Far too often Canadian history is presented in a dry, boring way. It's about facts and dates – and not given a lot of fun or action at all. Yes, in the big picture of world history, Canadian history is pretty small and pretty quiet. We don't have any major rebellions or knights or ancient hieroglyphics or emperors or raids on other countries. I admit, growing up – I hated it. I would rather study ANY other period of history. Canadian history is boring.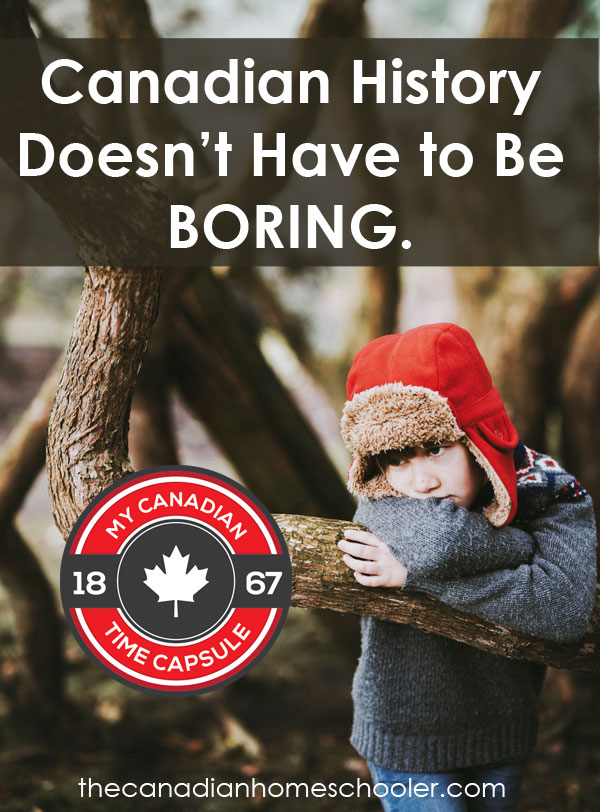 But I've discovered something…..
When you zoom in REALLY close to moments of Canadian history, you learn that there's a lot of action. There are people, and stories, and events that you just don't see so much from the overhead picture. Getting to the ground level and seeing history as it happens changes the viewpoint and, you know what? I've discovered it's pretty interesting after all!
Because there is this overwhelming sense of boredom about our history, it can be hard to make it fun to present to our children. The way history is presented to us is key to enjoying what we are learning, so let's make it fun and interactive.
Introducing My Canadian Time Capsule – a monthly, hands-on, choose-your-own-adventure style membership where you can dig into specific moments of Canadian history and experience it. Each month, members receive access to a new study filled with all kinds of different ways to discover more about that moment in history.  Since kids all learning through different methods, I've tried really hard to include a variety of activities, including videos, writing, reading, hands-on, research, art, building projects, and more.
For example, month one is all about the Klondike Gold Rush. What better way to get excited about our history than to experience the thrill of searching for gold?!
The goal is to get kids curious and enjoying learning about history – to dispel the belief that Canadian history is boring. It's time to change that.
Get access for only $9.99 a month.
Want to find out more? Visit My Canadian Time Capsule.