As we gear up for our Federal elections, I had a few requests for material on how the system works, etc. So, I've put together a collection of resources I found.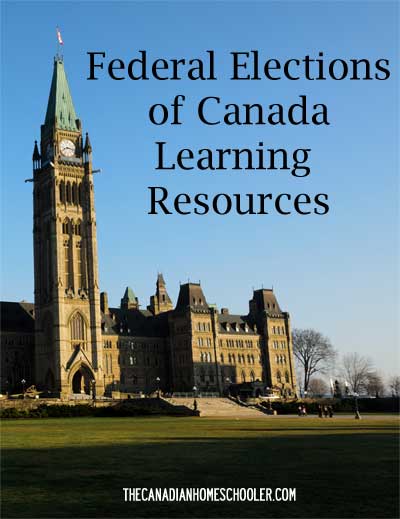 The best resource for election material is at www.elections.ca – where you can find out information not just for kids, but for yourself too!
Here, you will find two booklets for kids. The first, Choosing our Mascot, is an election simulation for children in Grade K through 4. The children learn the process of an election by voting for the animal that is best suited as the mascot for the north.
The older grades have a booklet called Canada at the Polls, which explains the steps involved in an election through a school council election. It also has several examples of important sheets – like tally sheets and ballots.
They also have an election simulation lesson plan designed for kids in grade 5 up to 12. The whole scenario takes between 45 and 75 minutes, depending on the group interest.
If you want to really give your children the opportunity to experience an election, check out studentvotes.ca – where kids get the chance to learn about the different parties and campaign platforms, and then vote for themselves.
To look through clips of past electoral debates, candidates, issues, etc, visit the Archives.
For $16, you can find a purchasable e-book from Rainbow Horizons Publishing, which explains the government and elections through games, worksheets and more. There are a few sheets available as samples so you can see what you are ordering.
Using past federal elections, students can assess the results and learn about electoral ridings. Check out this series of amazing maps which show what political party results occurred in past elections across Canada.
From Crayola – some thought provoking questions on what your child would do if they were Prime Minister.