I recently went to the local teacher supply store and wandered around with a pen and paper, on the search for Canadian publishers and materials, games and toys. I was sadly disturbed by the lack of these products, but I did find a few great discoveries that I will share with you over the next little while.
The first of these is Chalkboard Publishing. They use the title "Canadian Curriculum Teaching Resource" for their books.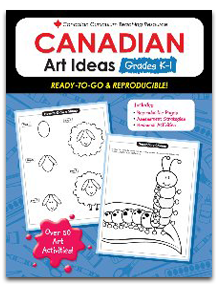 This company publishes Canadian content books full of master copy worksheets, activities, and more for a huge variety of subjects and grades. Their website not only shows you what books they provide, but small, printable samples of each so you can see what they are like.
Subjects they currently have books for:
Mathematics
Art
Social Studies
Health
Character Development
Geography
Assessment
Time Fillers
High school Resources – like math review/prep
Teaching Resources – like bulletin boards and day specific material (100th day anyone?)
Language and Science are listed as "coming soon."
The other great thing about the books from this company is that they have a French resource section. Not for learning about French, but actually books like math and cursive written in French – something that has definitely been a gap in my search so far!
En Francais, il y a des maths, traitement des donnees, developpement de caractere, des exercises d'ecriture script, et des resources pour le 100e jour d'ecole.  [Sorry if my French is horrible. I'm very rusty. Funny to think at one point I considered myself virtually bilingual!]
Definitely worth taking a look at!