Canadian mom, Doreen, had 2 boys who weren't really interested in reading, so she turned it into a game. That game is now available to everyone and it's called uKloo.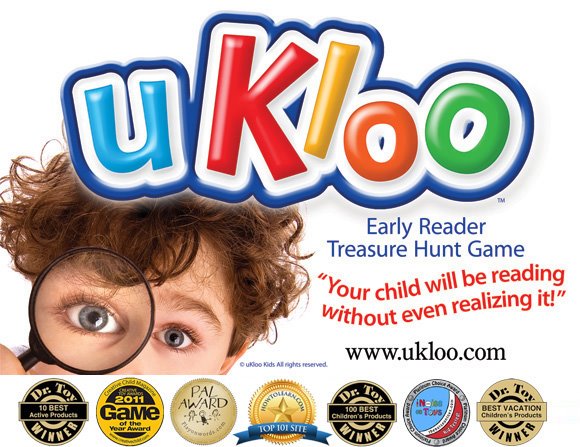 This game is essentially a scavenger hunt designed for early readers ages 4 and up. It comes in a little box that is filled with 54 cards of clues that you hide in specific places around your home. There are three different levels of cards – with level 1 being simple basic language clues like "Look on your bed." to more complex level three cards such as "Find it beside the milk and cookies on the table." You can also write your own clues on the extra cards provided.
At the end of the hunt, your child finds a colourful "Surprise!" card, which you can use as a reward of its own, or where you can write out a special prize – like ice cream, or a trip to the store for candy, or anything that your child will love.
In the box is also a foldout "Picture Helper" sheet which gives visual cues to understand the words on the cards. This is really handy for kids who are nervous or not-so-confident in their reading abilities yet, so they can start to associate words with meanings.
My oldest son (who is currently 10) decided that he wanted to set up this game for his brothers. He sifted through all the cards to find ones that we could use in our house, grabbed a final card and took off around the house to hide them. Then they got started – there were many excited footsteps running up and down the stairs as the two younger brothers ran around searching for their clues. They LOVE scavenger hunts, so this is a perfect game for them. (I tried to take pictures of them doing the hunt, but they were mostly blurs in pictures!)
I did find that once they discovered the helper sheet that they got a little too dependent on it, but I think over time when words are familiar they wouldn't check it as much. We had a great time with this game, and next time we're going to add more cards to make the activity longer and more challenging.
There are two other products from this company – the uKloo Riddle Edition, which is designed for older readers who want a new level of problem solving and complexity (and I will share more about this game in the future!) and the FREE uKloo Reading Adventure App!
Currently only available for Apple products (which we own none of), I asked my friend Shari from The Knit Wit by Shair to test it out for me. Here are her thoughts:
—
Having 2 boys who love to read, and we are trying to encourage them to keep at it, is awesome. But sometimes we need more fun ways to do this. We also have a little guy who is learning to read so will need to keep up on encouraging reading.
We tried the Ukloo card game previously and really loved it. The boys loved the treasure hunt aspect, and didn't even really care that they were reading. They love reading though so they finished the game, and sat down and read.
We are always looking for fun apps for drs appts and anywhere we have to sit quietly and wait. I strive to make them educational, and the boys need FUN, especially if they are going to have to sit still. When I was told about the Ukloo app, I promptly downloaded it to my 1st generation iPad. Unfortunately I couldn't get it to open, it just kept crashing. I was disappointed, but I am not sure what iOS we have on our iPad, and I think that may have been the problem.
So I downloaded it with my iPhone 5s, and tried it out, a little with my fingers crossed and voila worked fine.
First you will see a Ukloo menu. Where you can easily make quick choices as to what kind of game you would like to play, how many clues etc. You can pick your level so if it's an older kid you can pick a harder level:
Next when you play you will get clues as to where to look:

When you click on the bell, it will animate! So it rings, and moves around. The scenes are all very cute.

When you find the item, and click on it, you will see a little card, you then click on the card, and get the next clue.

I found the game very cute, and my middle son really enjoyed it. My 4yo and I played together and really liked it. My only problem was that it only works on my iPhone, which the boys aren't really allowed to use, and now they keep wanting it for the game. I think it's time for us to upgrade our iPad LOL
Right now with the game there aren't a lot of levels as it is just newly launched, but they are hoping to spread the word about the game, and add more levels!
Download the app to check it out today!