The Canadian Adventure book is a province by province virtual trip. Take you and your kids on a tour of Canada – from Newfoundland to BC and through the three territories.
For each province/territory, you will get to explore the sights as if you were a real tourist. Visit popular attractions, wander through city streets, take a look at the landscape, meet the people, try the food, and more. Teach your kids about map skills and other neat facts about each province.
How? 
I've spent hours pouring through tourist sites, Youtube, Google Maps, websites, and more to find everything I could to provide as close to an "in-person" experience as I could offer you. There's even experiences that you might not ever have gotten in real life on your own.
It includes:
Green Gables
a Canadian desert
dinosaur fossils
whale watching
Parliament Buildings
panning for gold
the Northern lights
lighthouses
First Nations experiences
canoeing and kayaking
mountain climbing, camping, and hiking
provincial parks
ferry rides
….so much more
All from home!
How to get it: 
This ebook is now available in my resources shop for only $9.99! Simply order it, download, and get "travelling!"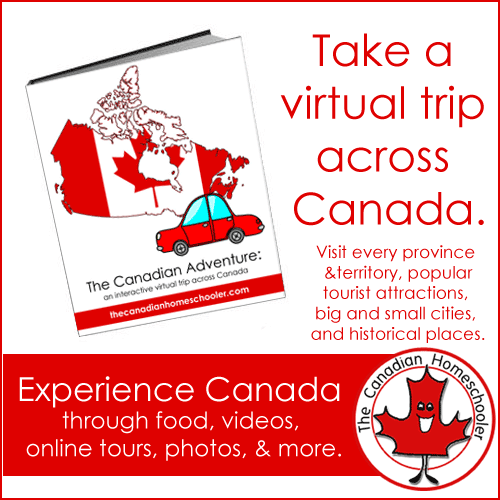 Happy Travels!