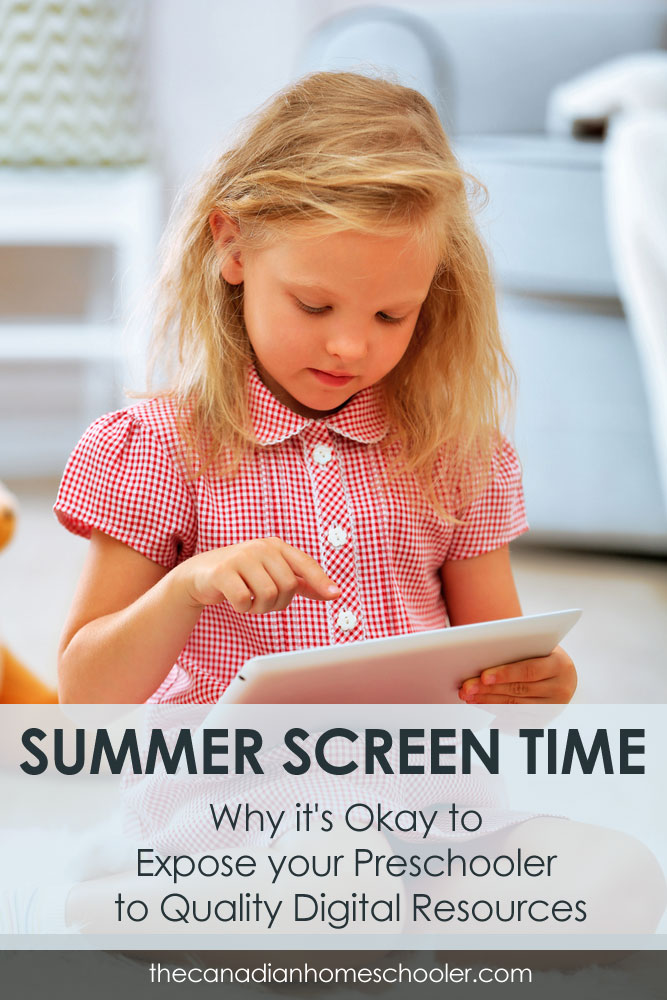 Have you heard the buzz adjective for summer? Apparently, it's "screen-free" everything! We are seeing more screen-free activities, screen-free living rooms and screen-free days or weeks.   In fact, social media is full of printable resources for creating "screen time rules" for your little one.
"Have you made your bed, brushed your teeth, washed the baseboards, and alphabetized the cookbooks in the kitchen? Ok! You can watch 4 minutes of T.V.! No  you haven't? Back to the galley ye scallywag!"
Ok. I'm exaggerating slightly but these kinds of checklists worry me a little bit. Are all these rules actually backfiring on us as parents? It seems to me that nothing could make a child want to play mine craft more than making screen time this elicit and restricted.  Without meaning to, when we reserve screens only for use as mindless rewards after having "read a book" or "gone outside" – we turn screens into the coveted prize and books and outdoor time into chores. Oops. Surely that wasn't our intent, right?
Don't get me wrong, nothing was more depressing to me last summer than realizing we were the only people at our local park who were actually playing at the park and not playing Pokemon Go. However, the fact is that for every single piece of evidence citing the evils of technology for preschoolers there is an experience that – if it weren't for access to screens – your child might never ever have.
Here are 4 things you might be surprised to learn that screens are doing to help your preschooler this summer:
1. Screens Encourage Reading
Make time to watch book trailers and give your little reader a taste of the books you already have on hold at the library! Take a peek at this book trailer and see if you're not enticed…
2. Screens Help you to Observe Nature Differently
Slow it down, speed it up, get up close or even watch it live: nature on the screen lets your little observer see different phenomena in a different light. For example, this slug absolutely astounded my children a couple of weeks back! He can come and eat the dandelions in my yard any day!
3. Screens Let you Create Art
Can't afford to visit Paris this afternoon? No problem! Take an online tour of works of art at the Louvre online. Digital media also helps you recreate some of the most fun and famous art in existence! Here is a site that lets your little artist drip paint like Jackson Pollock but without the mess!
4. Screens Take you to the Symphony
When it comes to introducing your little musician to classical music, a live performance can't be beat but in the absence of that, there are some incredible recorded concerts that will do the trick! There are so many lovely pieces written specifically for the summer season! Here is one from Vivaldi:
There we have it.  If you were feeling at all guilty about letting your child have screen time this summer, consider how much you can share with your little one by simply managing and planning for quality screen time throughout the season.  Don't be afraid to take your devices out of doors either. Set yourself up next to an ant hill with a magnifying glass while watching live leaf cutter ants on the tablet or  Google bird calls you may have heard on your nature walk. When it does rain, visit the Metropolitan Museum of Art all snuggled up together on the couch.
Rebecca Overall is the creator of  Artsy Startsy and the ROAM curricula – helpful, informative curricula that enhance the time you spend with little ones. She believes that every preschooler is a little Reader, Observer, Artist and Musician! She has a great love of the liberal arts and books which led her to pursue degrees in languages, literature, education and library science. In her past life, she worked as both a teacher and health sciences librarian.When she decided to stay home to raise her children, she discovered that she had a unique opportunity to pursue her love of the liberal arts again as well as a chance to spend more time exploring the outdoors with her little ones!