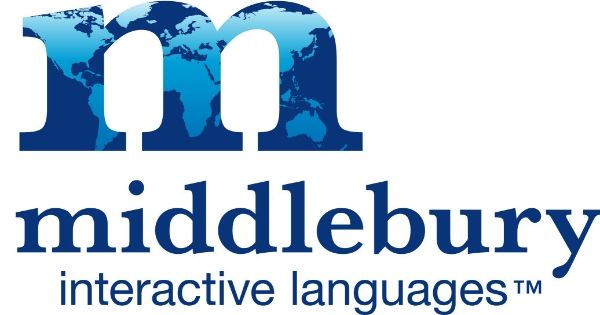 What I reviewed:
Elementary French Course
from Middlebury Interactive Languages
What is it?
Online language course
Who is it for?
 Variety of courses in multiple languages for grades ranging K – 12
How much is it?
 $119US per semester
Tell me more:
Middlebury offers online languages courses in French, Chinese, German and Spanish for students in a variety of grades and ability level through a series of interactive lessons and tests.
We used the Elementary French 1: Grades 3-5 program. It includes 8 units that cover the basic topics of :
Greetings
Numbers
Family
Body
Animals
Colours
Days of the Week
and a final unit to review them all
Each unit is based on a story or a song – which the students watch in the opening lesson for that topic. It's all in French. For example, the greetings unit had the story of La Petite Chaperone Rouge (Little Red Riding Hood). There was an animate video with French narration. Using experiences and characters in that story, the rest of the lessons follow along with drilling and learning more about every day greetings such as Bonjour! Salut! and Ca va? This particular unit has 6 lessons, with each moving through a series of activities such as review, exploring, matching up pictures to narration, and even speaking labs – where you record your voice saying the words to compare with the official narration.
Although the program has a built in calendar with a recommended lesson-a-day plan, you are free to work at your own pace. In order to finish the program within the semester time frame of 18 weeks, your child needs to complete about 2 – 3 lessons a week.
We used this program with my 10 year old – who would be in grade 5 in the school system. Until now, we have basically just done bits and pieces of French lessons with nothing officially formal. I had no idea how much he would remember or understand. This program starts with basics, which I think it great.
It was easy to log in each day, find the table of contents, pick the unit and lesson he was on and get started. The lessons are presented in a slideshow kind of method, with little thumbnails on the left hand side of the page to help with navigation as they complete tasks. Up in the top corner of their work screen, they see their scores on the tasks they finish so they can fix their errors.
Each unit has a series of quizzes and tests which are marked. There is even a special section called gradebook where we are able see which he has completed and how well he has been doing on them.
I was impressed with how much my son was picking up and remembering – likely from repeating a topic for 6 lessons and doing activities to reinforce that learning. While still really basic beginner French, it is a good building block to keep moving forward in his comprehension and comfort with the language.
We had issues with the recording activities, which had nothing to do with the program, but because our microphone wouldn't work. I was a little disappointed, because I thought it would be a terrific addition to helping develop speaking skills. Instead, I had him speak the words aloud and we compared that way.
A few times, the colour of the background happened to be a very similar colour to the answer options which made it nearly impossible to see.  My son found this frustrating, but it was just a small issue in the overall program.
All-in-all, this elementary French program is a great introduction to a second language, although it is extremely basic – covering mostly early phrases and words instead of more in-depth things such as verbs. If your child is beyond this skill level, you might want to look more into some of the higher level programs to see if they would meet your needs better.