Board games and puzzles are great gifts because they engage the brain and often the family, too! Here are some great games to consider.
This post contains affiliate links.
#1. Gladius : Canadian. This company creates and distributes games in both French and English. The selection varies from fun photo hunting games to currently popular character games like Cut The Rope, Spiderman, Barbie, and Caillou. In our house, we love the Canada Hunt and Seek game.
Where to Buy: Check out their Editions Gladius website.
---
#2. PuzzleMaster : Canadian. If your child loves to solve puzzles, check out this company. Their puzzle options range from the traditional jigsaw puzzles (up to 18,000 pieces!) to some seriously challenging brain puzzles – like wooden boxes, wire puzzles, puzzle books, and good ol' fashioned Rubik's Cubes. They even have t-shirts.
Where to Buy:
Visit the
www.puzzlemaster.ca
website.
---
#3. Professor Noggins: Canadian. This series of card games blends learning with fun. It's like a trivia game – the question is … how much do YOU know? There are currently 38 different sets to choose from, covering science, nature, geography, history, sports, mythology, and more.
Where to Buy: These games are sold in many educational stores across the country, or you can order them from Amazon
.
---
#4. Ukloo : Canadian. This game is a scavenger hunt designed to not only be fun, but also to help develop reading skills. There are two editions – the original game which is for early readers, and the riddle edition which is for more advanced readers who can solve problems while running around the house.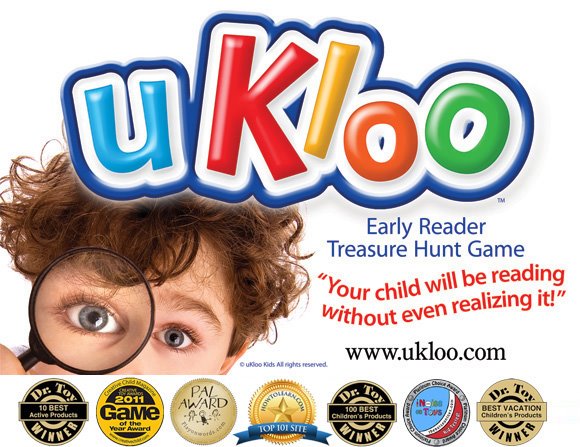 Where to Buy: You can order from Amazon or the Ukloo Website.
---
#5. Family Pastimes: Canadian. This company creates and sells co-operative board games, which makes them a great family gift. The games are designed to help teach sharing and working together.  Some of the game titles are fun – like "Shh! Mom's Asleep", "Ice Breakers to the Rescue," and "Stop the Presses!" There are games for every age range too – from 3 years old to adults.
Where to Buy: Take a look at their website, www.familypastimes.com and then contact them direct to order.
---
#6. Punch Out and Play Game Book. It's a book full of games! All you have to do is push out the pre-cut cards and shapes nd then follow the instructions to play the game. There are 10 puzzles and 13 games inside, along with envelopes to make so you can keep the pieces in. The games include dominoes, go fish, and a whole deck of cards with directions for classic games like War, Slapjack, and more. A perfect family gift!
Where to Buy: This book is available on Amazon.
Need some more ideas? Here are 10 Educational Board Games.