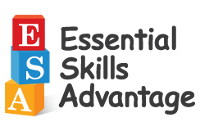 Essential Skills Advantage
is a Canadian-based company is focused on developing language (and other) skills in kids from Kindergarten to Grade 6 through a series of online activities and challenges. It's not presented as a game, but simply activities.
Our family first had the opportunity to review it back in 2014, and since then it has grown from a language-only resource to include math, geography, and science as well.  For each grade, a variety of skills are worked on (depending on the level), such as:
For the language in each grade, a variety of skills are worked on (depending on the level), such as:
Each section is then broken down into more detailed units and topics, as you can see here under the Grade 2 list.
As students work through their activities, they receive stars to show that they have completed that task and to know what to move onto next. The star chart shows them the marks of how they did, giving them a goal to get 80% or higher on each task. This motivation seems to work, as each kid was eager to get their star as high as they could.
The work for each grade is very thorough, allowing for a lot of options to include this into your school year. For example, the "Complete Reading for Kindergarten" is very detailed.
At this level, many of the early activities include a lot of audio instructions and pictures, which I think is great. It makes the child able to participate in the program independently – a very handy feature especially if you work with multiple children.
For parents/teachers, you can access several features which are helpful. The complete reading programs include activity guides. These guides explain the unit, the activity, the instructions for each, and what skills are being learned.
In addition to that, the parent portal offers you a place to change your student's information and passwords, but more importantly, where you can get a report on their "marks" – how well they did as they completed each activity. Here you can see how many times they attempted each and how well they succeeded in that task. When they complete a unit, you can download a personalized, full-colour printable certificate.
How We Used Essential Skills Advantage: 
I signed up each of my children for Essential Skills Advantage and was excited to get started. They each picked a level that was quite a bit below their level in order to review and affirm their skills. That was fine with me. Watching them successfully complete the tasks with ease helped build their confidence and encouraged them to keep moving forward. Since it was summer during our review, we used this as our primary language learning tool in the midst of our daily activities.
Now that we are heading back into our regular school routine, I have planned to highly feature this program for our language arts study. As language is one of the areas that my younger two school aged kids are behind on, I anticipate this program will seriously help them catch up and get ahead.
What We Liked/What We Didn't
There were a few things that we found frustrating – the main is navigation for the kids on the site. Far too often, the X button would be clicked in an effort to return back to the main navigation areas and the kids would find themselves losing their screen and having to relog in again. We did eventually find the back button (at the very bottom left side of the screen), but it wasn't easily noticeable. I'm not sure if our screen settings were too big or something, but that arrow was actually only accessible by scrolling down the screen, whereas the X is right on the top in plain sight. I think it would be beneficial to put the back arrow maybe on the left-hand top of the screen to make it easier to navigate.
Other than that, we were pleasantly satisfied. In fact, one of the really terrific things I can comment on was that my son found a glitch in one of the activities and we hit the little "report a bug" button on the screen, sent in the information of what we'd found, and right away we got a personalized email letting us know that they appreciated our find and had gotten it fixed right away!
Since this original review, the site has changed drastically – making login easier and selecting activities more intuitive and user-friendly.
Cost-wise, Essential Skills Advantage is priced at a per month, 6 months, or full year purchase, dependent on if you have 1 student or more. It starts at $7.99/month for one child and $10.99/month for up to 10 kids.
We've continued to use this website frequently over the years, excited to try out some of their more recent additions like Canadian geography. This is a great review and practice program and my kid enjoy it when I give them the chance to use it in their studies.