What I reviewed: e-Science Premium Membership
What is it? Homeschool science curriculum by Supercharged Science
Who is it for? Grades K-12
How much is it? $57/month
Where can I find it? www.ScienceLearningSpace.com

Tell me more:

Supercharged Science is an online video based science program that takes the guess work and frustrations of science out of the way. There are currently 20 complete units to work through, ranging in topics from motion, to chemistry, to astrophysics, to alternative energy.

Each unit is broken down into different lessons – the number depends on how many subjects that unit covers. When you dive into the unit, you'll find an introduction to the topic – which is typically an intro video and brief reading explanation, a download of the unit if you wanted a print copy, and a shopping list for all the experiments planned for the unit.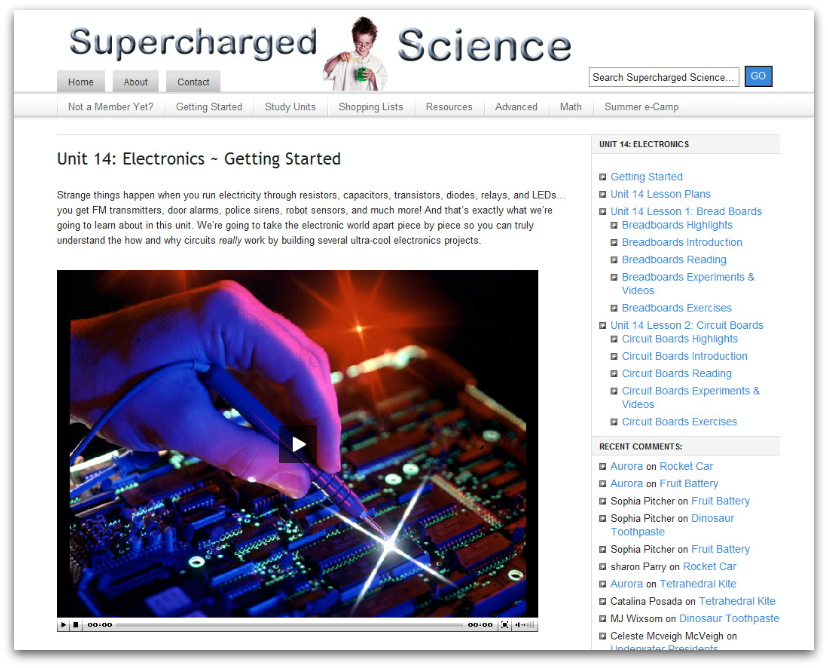 The lessons are detailed, and once again broken down into usable chunks. Another video introduction to the topic being studied kicks things off, then a reading segment that explains the topic in detail. There's even links to textbook readings for more detailed information. Next comes the part that my boys love the best – the hands-on experiments and videos. Finally – a printable review test about what has been learned in that lesson.

Some lessons offer additional experiments and activities for advanced students, meaning that it's flexible enough to be used for a wide variety of grades and levels at the same time.

In addition to the unit studies, there is also a complete section all about science fair projects, an e-Science Camp, a unique math unit, and a collection of teaching resources to help you teach science.

What we did:

My boys range in age from grade 1 to grade 4, so I didn't really dive deep into any of the hard-core readings and tests for any of the units we did. Instead we watched the intro videos, talked about what we learned, and then got into doing experiments. 

First I checked out the "unit zero" information which explained e-Science and how it works, then we jumped into the pre-unit of understanding the scientific method. During this unit we got the understanding of how scientists approach and create experiments – the steps of question, hypothesis, materials, method, etc. For example, we had a great time testing out a pendulum that we made with a string taped to the edge of our table and weighted down with erasers. We tried a variety of things to see if the pendulum timing would change – weight difference, height difference, etc.

Next we moved into the first unit, which was all about mechanics – force, gravity, and friction. I admit, maybe we worked a bit slower than some other people at these units because we chose to work at one or two experiments a day, which made each lesson last longer. It also meant we had plenty of time to make sure concepts were being understood before moving on to the next topic.

The lessons on gravity were fun – lots of dropping things, flinging things off tables, and jumping around. But, the one lesson that seems to have been the biggest hit so far was the one on static electricity. (That might change as we prep for a DIY hovercraft project!)
I love that everything was completely laid out – including a list of materials needed. For the most part, everything has been easy to accomplish from things we already had at home. As we get deeper into the program there are experiments (like said hovercraft) which are going to involve me needing to get a few parts in order to complete. But the bonus is that we are completely in charge of what we actually do – so if it's something that's out of our budget or interest, we aren't obligated to do it at all. It's all there for us to use as we'd like!
I also like that Aurora, the creator of the program, really takes time to simplify things, and explain concepts using props to make it visually understandable to the kids. She takes time to show us everything in good details and my kids watched her videos with interest. The videos themselves are generally not too long, which is again good for attention spans. She also speaks to them without talking in too simplified language – like she expects the listeners to be able to keep up just fine. And, they do!
e-Science is a great way to learn about the world from more than just a text book. It's an interactive, hands-on kind of learning which really appeals to kids, while still giving homeschooling parents the comfort of knowing their kids aren't just playing – it's actually learning!
I'm excited to share that the team at Supercharged Science are offering a free sample of e-Science. It includes some of the videos and experiments for you to jump in and try right away! Or you can get full access to the site for $1 for a month.